Our blog entry for this week comes from Rachel Wetten, who recently went to South Africa, to have her very own adventure. Here is what she got up to:
"Hi, my name is Rachel. I'm 30 and have just been on the most amazing trip to South Africa. I did the
Kruger, Mountains and Cape trip
, which was accommodated.
I originally booked the camping version of the same trip, but was upgraded when it failed to go ahead. I was initially disappointed, but decided to approach it with my typical 'What will be, will be' attitude. A wise decision in hindsight!
I have a friend in Johannesburg, so flew out a couple of days early to spend time with her and her family before the trip started. This was the first trip of this kind I have done and although I have travelled alone before, the thought of meeting and spending 2 1/2 weeks with a group of people I didn't know was rather daunting.......... so I took a deep breath and got on with it!!
From Johannesburg we went to Kruger National Park, via Graskop where we had spend our first night.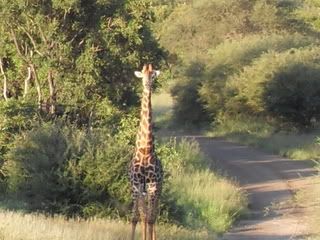 It was incredible, the enormity of it, the expanse and the wildlife. It was a truely magical experience to turn a corner and have a giraffe or an elephant or a herd of 60+ water buffalo blocking your path and the only thing you can do is stop and wait for them to move!!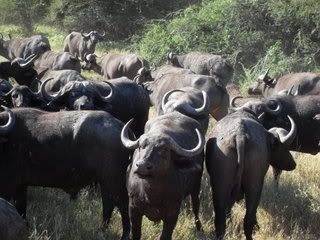 The early morning game drive - starting at 5:30 - was just amazing! By 8:30 we had seen four of the 'Big Five' and much more besides. A cheetah sat on a rock, calling to her babies or mate, is a sight I shall never forget. (I think the guides were rather pleased as well!!)
We stopped for brunch and I had to pinch myself that I was really there, in Kruger, helping to make a fabulous and much anticipated meal of bacon, eggs, beans, mushrooms....... having just seen what I had seen. I couldn't quite believe it!
From Kruger we spent one night in Swaziland, where the electricity failed - but that is another and very long story that added tremendously to the idea of an 'adventure holiday'! - and then on to Mkuzi Black Rhino Reserve.
We took a trip to a local Zulu homestead which is not put on for tourists, but is where this family live, it is their home. It was a very humbling and moving experience for us all and the atmosphere in the bus on the way back was a little subdued.
The meals cooked for us by our wonderful guides were consistently superb and the 'drunken chicken' that second night in Mkuzi was a sight to behold......!
From there we carried on to the Drackensburg Mountains, which were literally breath taking, and awesome, in the true sense of the word. The walk to 'Jacob's Ladder' and subsequent swim in the naturally formed pools by the waterfalls, was just fantastic and something I shall never forget.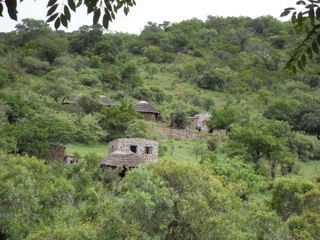 From here we had our longest driving day - ten hours in all - passing through Umtata (Mandela's birthplace) and a vast array of scenery down to Kei Mouth, right on the coast. This was a lovely little town, where we stayed for two nights and got our first taste of a South African pub!
We then travelled inland again, spending one night at Addo Elephant Park and then through Tsitsikamma National Park, (home to the world's highest bungee jump, in which I did not partake!!) and back to the coast at Knysna. This is the most spectacularly beautiful town and location. Evidently the clear blue skies and 30'c heat aided the views; but completely stunning!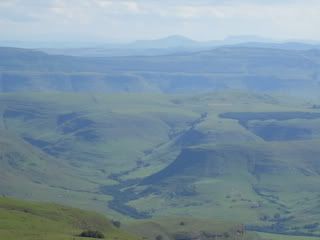 Here we had our first night eating out and were taken to a lovely Greek restaurant right on the waterfront. After the meal a few of us carried on into the town and further sampled South African pub life, with live music. A very good night!!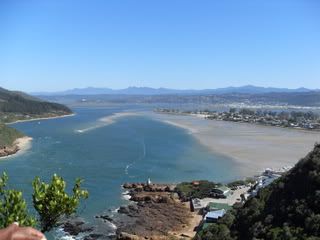 After Knysna, we took the Garden Route, via Cape Agulhas, (the southern most point of the African continent and the geographical point at which the Indian and Atlantic Oceans meet - quite spectacular and well worth a visit!) to Hermanus, where we stayed for one night.
The next day we started the final leg of our mammoth 6,500km journey, to Cape Town. We stopped for lunch in Stellenbosch and had the opportunity to sample some locally produced wine. It was the most beautiful place, with stunning architecture and the mountains in the distance. I had to keep taking mental pictures and breathing in the atmosphere, because I knew we only had a matter of days left.
We arrived in Cape Town on Valentines Day and because of this we were 'let loose' for the evening. I spent it in a pub on the Waterfront, eating pizza and watching England lose in a rather spectacular fashion to Wales in the Six Nations!!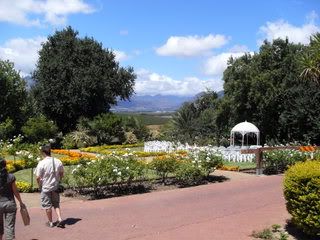 The next day we went to Hout Bay and took a boat trip to see the colony of seals who reside there. We then travelled to Cape Point and the Cape of Good Hope (the most south westerly point on the continent) We had lunch there and then carried on to Boulders Beach and a large group of African Penguins. I have to say this was rather surreal - to see penguins walking on sand and sun bathing!! But quite lovely!
That night we all went together for our last meal of the trip to the Waterfront in Cape Town. This is the most amazing city, with a veneer of the laid back and relaxed South African lifestyle, but bubbling excitedly underneath. And to turn, where ever you are in the city and see Table Mountain............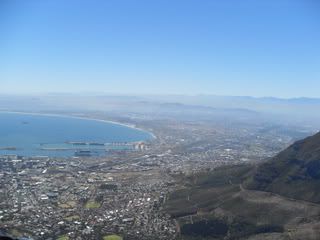 Monday was our last day and Table Mountain had been closed both previous days, so when the guides came down for breakfast and informed us it was open, most of us were very pleased.
I, for one, was honestly terrified! I hate heights and the thought of going up 3,500m in a cable car left me literally shaking (really, the entire time we were queuing I was outwardly trembling!) but I was determined to do it.How can you be in Cape Town, have the opportunity and not go up Table Mountain?
So thanks to a very kind and considerate tour guide (you know who you are!) I made it to the top of the mountain! It is, apparently, very common for it to be rather windy on top, but someone was smiling down on me that day, because there was not a whisper..... It was simply incredible!! (And no, I did not take all the pictures, my official photographer must take the credit for these!)
So that was South Africa, well a bit of it and through my eyes, but I can't recommend it highly enough. Take a sense of adventure, a laid back attitude, a lot of good humour and enjoy........... "
Rachel went on our Kruger, Mountains and Cape trip , however The Adventure Company also have nine trips to South Africa. You can find out more on our Adventure Company Website.

Have you been to Africa recently? We'd love to hear about your experience! If you are interested in submitting an entry, please leave a comment, or send us an email using the contact box at the side of the page.

Thanks for reading,
The Adventure Company