This week, our entry comes from Adell Ward, who fancied a
holiday in Morocco
and plumped for our
Desert Adventure
tour. She kindly shares excerpts from her travel diary, and let us know how she and the camels got on:
Day 1:
Flew from heathrow to casablanca and then another short flight to ouarzazate. Early in the morning so straight to bed!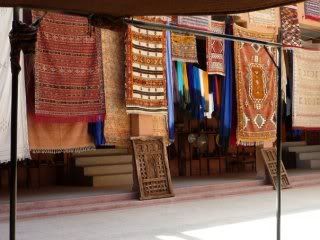 Day 2:
Up early for breakfast then we set off to a local bank to change money and to a shop to buy a picnic lunch. We then set off by minibus through the Draa Valley. Stopped for lunch at a place with a lovely courtyard and lots of moroccan carpets.
We all got our first taste of traditional mint tea. After another drive with a photo stop (Japanese stop as our guide liked to call them) we arrived at our camels. After loading them up with our food and equipment we set off into the desert. The camels took a little adjusting to especially the one that had a large load on and became known as "Wide Boy!"
After a couple of hours we came to our first camp. We camped in a traditional Bedouin tent on mats and in a sleeping bag. After some mint tea we had supper of Moroccan soup, beef tagine and dessert. Our cook was amazing and we always had pleanty of good food to eat!
Day 3
:
Woke early to the sound of camels milling around which was strange. After breakfast in the kitchen tent, we watched the camels being loaded and then set off ourselves further into the desert. Some walked and some rode. That was one of the good things about our trip the fact that you could choose how much you walked or rode.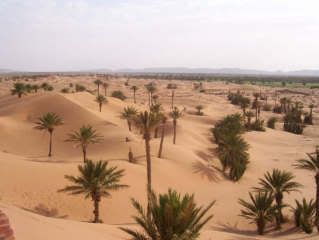 Mid mornings we stopped to rest and let the camels have a bite to eat while our guide "Lahcen" brought around a big bag of mixed nuts, dates and figs for us to eat.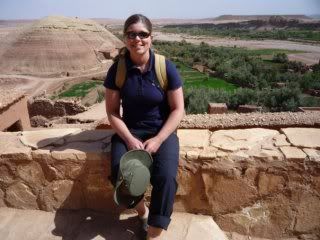 That morning, we travelled through a really big oasis which was really lush with lots of little fields of crops and the sound of donkeys braying in the distance. Lunch once again was fantastic: salad, fruit and bread the presentation of which, was brilliant.
After another afternoon travelling through the desert we arrived at our camp which was set against beautiful sand dunes. Our guide brought the tea to the top of the dune for us and here we stayed to watch the sunset.
Before supper, the camel drivers invited us for traditional song and dance which was amazing. They cooked flatbread to go with supper over the fire. Great food again thanks "Ad"!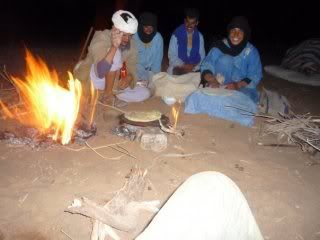 It got a bit windy during the night and we woke to the tent sides bellowing out and sand on and in everything and i mean everything! We worked together to get it sorted the best we could before going back to sleep. This actually became one of the groups trip highlights. Well, we wanted a dersert adventure!!
Day 4
:
Today we traveled over a dry stoney landscape and stopped in a small village which had a tiny shop where we could by water, oranges etc... and the camels had a rest.
Today we had a siesta after lunch under the palm trees which was lovely. Everyone was getting on so well in the group and we laughed our way through most of the trip.
At camp in the evening we joined the camel drivers again for song and dance. They wanted us to teach them somthing so we decided on the "hokey cokey" it was one of the funniest and bizzare things: doing the hokey cokey in the middle of the Sahara desert!.
Day5
:
Our last day with the camels. We trekked as usual and after break I decided to walk the last stretch which turned out to be a lot of sand dunes. They are not the easiest thing to walk on so, I ended up with quite a bit of sand in my boots, but at least I managed to walk off some of the good food.
We arrived at our last campsite which was a fixed campsite, in a Mud hut style. We had showers and toilets, which we were incredibly happy about. A village tour and a museum trip that afternoon before group photos of our camel drivers and guide.
Day 6
:
Very early start and a long minibus journey to Marrakesh over the Atlas mountains. Said a final farewell to the camel drivers and set off. Stopped to visit the village of Ait Benhaddou where they made Gladiator. After an amusing river crossing we climbed to the top of the village and got an amazing view! Visited a carpet shop and learned about why and how they are made, then contiued over the Tizi-n-Tichka pass, which is the highest point in North Africa.
We got caught in big thunderstorm on the way to Marrakesh and the roads flooded a bit but it all added to our adventure. In the evening we walked to the medina in Marrakesh for some food and then some went for drinks and others went to the hotel.
Day 7:
Today we had a tour of the souks and the palace in Marrakesh which was fascinating. Later we were free to explore and shop.
Brought some pointy yellow slippers, after a lot of haggling! We all had a meal together for the last time. Our guide was fantastic and made the trip exceptional. Nothing was to much trouble and you could ask him anything.
The people were fantastic and I truly had the best time ever, which means I will defiantly be travelling with The Adventure Company again!"
If you are looking for an adventure
holiday in Morocco
, why not take a look at the
Desert Adventure
tour that Adell completed. The Adventure Company have 16 different
holidays in Morocco
for you to choose from, whether you are travelling in a group, solo or as a family.
Thanks for reading,
The Adventure Company