This blog entry comes from Ellen Sziede our Product Executive, who recently made her way back to Africa and took part in our Serengeti Explorer Trip. Find out how she got on, and what her highlights were:
"Last May my boyfriend and I travelled on the Serengeti Explorer trip. For me, it was a much-anticipated return to Africa, while for Pete it was a rather spontaneous adventure – having not been on a safari or a group trip before, he was up for any new experience. The first highlight came before we'd even landed. It was a clear day, and the flight was not overly full, so when we passed Mount Kilimanjaro, we could actually get to the windows with the best views.
On arrival in Arusha, the group was transferred to the lodge, to freshen up and relax for the afternoon, before embarking on safari the next day. Karama Lodge is not an anonymous city centre hotel but consists of stilted wooden cabins, scattered around a lush green garden, with scenic views of Mount Meru. It was a peaceful place to relax for a bit and get to know the other travellers in the group over dinner.
The next morning we met our safari team: Guides Jacob and John, and the chef Innocence. We teamed up in two safari vehicles and made our way out of Arusha, with stops to change money and buy drinks and snacks for the duration of the trip – opportunities to buy supplies are very limited while on safari in the national parks.
We made it to Mto wa Mbu in time for lunch and set up camp at a lovely, green campsite, complete with swimming pool. In the afternoon, we set off for the first game drive, in Lake Manyara National Park, about 25 minutes drive down the road. We had barely made it through the park gates, when we had our first sighting: a rather vain-looking baboon was posing at the side of the road, as if waiting to have his portrait taken. We obliged.
Much of Lake Manyara National Park is covered by dense bush – which makes it a perfect playground for monkeys and a great hiding place for antelope and elephants.
We stopped at a waterhole just as the afternoon sun was dipping, giving everything a lovely soft glow. It was the perfect setting to stop for a good while and watch hippos wallow in the water and birds take flight.
We had a great introduction to game viewing this afternoon, seeing elephants, impala, baboons, hippos, giraffe, and even some buffalo and lions from a distance. As one of the less famous national parks, Lake Manyara was a wonderful surprise with its varying landscapes of lush thick bush and open, grassy spaces.
The next day we traversed some amazing landscapes, working our way up the side Ngorongoro Crater – the proper visit into the crater would only be in a few days time, but we got a sneak preview as we stopped above the crater – and visiting Olduvai Gorge. We stopped here for lunch and listened to an interesting – and entertaining – talk about the archaeological pursuits of Dr Leakey, before browsing through the attached museum.
In the afternoon we reached the famous Serengeti. It certainly did not wait long to wow us. We were en route to our campsite when we saw two beautiful lionesses crouched in the long grass next to the road. We stopped and watched, cameras at the ready. One lioness raised her head and took in the scent of us.
To our delight, instead of disappearing in the long grass, she prowled closer and closer…
… until she crossed the road right between our two vehicles!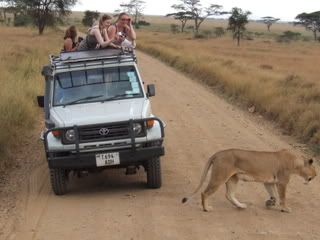 We reached our campsite mid afternoon and set up camp for the next two nights. Facilities were basic, with only two cold water taps available, but our safari team went to great effort to provide the necessary little comforts by setting up basins with warm water next to each tent in the morning, so we could freshen up a bit.
And while warm showers are lovely, we were more than compensated for roughing it a bit by enjoying the sense of adventure that comes with camping in the middle of one of the world's most exciting places for wildlife watching – hearing the call of a hyena while you lie in bed at night is every bit as amazing as seeing the animals up close during the day!
The next two days were filled with game drives and many wildlife sightings. Amongst others we saw buffalos, elephants, giraffe, warthogs, impala, Thompson's gazelle, Grant's gazelle, waterbuck, vultures, zebra, wildebeest – and even an elusive cheetah, ducking down in the long grass, but visible with binoculars.
One of my highlights was a regular stampede of zebras and wildebeest at a waterhole. The animals would run towards the water, driven by the urge to drink. In the water, however, lurked a crocodile, and one animal would inevitably give out a warning cry after gulping a few mouthfuls of water.
The entire herd would then turn and gallop away from the threat – only to rush back to it a few moments later – too thirsty to resist. Great clouds of dust were churned up, increasing the eerie atmosphere created by the zebra cries and the seeming chaos of hundreds of animals racing back and forth, torn between thirst and safety.
Another spectacular moment was as we returned to camp from our cheetah sighting. We had stayed a bit longer than we were supposed to – the park management imposes strict rules that groups have to be back in camp by sunset, for safety reasons – but seeing a cheetah is such a rare treat that of course we were not going to rush it! With the light fast fading, we were treated to a truly African sunset, with deep red skies and picture perfect Acacia tree silhouettes.
With the Serengti having lived up to expectations, we travelled onward to the next big name: Ngorongoro crater. En route we stopped for an optional visit at a Masai village. After making a contribution of 50 USD per vehicle, the Masai invited us into their village, where they performed a traditional dance, which the group got to join.
Afterwards the young men who had been voted by the community to act as guides took us on a walk through the village, including the opportunity to crawl into one of their tiny traditional dwellings.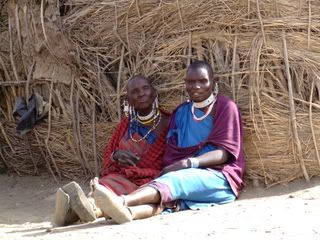 The first surprise of the Ngorongoro crater was just how much of a temperature difference one encounters as you reach its heights! The campsite is perched right at the crater rim, and we had amazing views on arrival, but the price is a somewhat chilly night. You definitely need to come prepared with a warm fleece!
We rose early in the morning to make the most of the time in the crater. Being somewhat unlucky with the weather, it was raining for the first hour or so in the crater, which is a rare occurrence. Once the skies cleared up, had a great time criss-crossing the crater floor, spotting for the famous rhinos. We did get a sighting, although from quite a distance, requiring binoculars. The most exciting moment of the day was certainly when we spotted three lionesses, and following them, they led us straight to their majestic male!
After an exciting morning in the crater, we made our way up its steep slopes again and journeyed to Karatu – a lively little town at the foot of the crater. The campsite here spoiled us with good hot showers, and after setting up our tents to dry out in the warm afternoon sun, some of us went for the 20 minute walk into the town.
Karatu is wonderfully low key – there were two or three souvenir stalls but overall it is just a small market town going about its business, which is exactly what I liked about it. It was great fun taking in the street scenes of rattling buses travelling through and colourful 'kikois' (wrap skirts, essentially made of a single length of cloth) being sold. We met a group of curious and charmingly cheeky school children on our way back to the campsite – enjoying a game of Frisbee and some picture posing.
Our final national park stop was Tarangire – famous for its elephants and baobab trees. It certainly delivered on both! Our tent was pitched right underneath a massive baobab:
And on our final game drive we encountered plenty of elephants – getting very close to a beautiful family with their young. A fitting finale for our great wildlife adventure!
The next morning we packed up our tents for the last time and headed back to Arusha. We might not have ticked all the "Big Five" (not having sighted a leopard) but they are not really what a safari should be about anyway. Instead, the trip was full of unexpected and unforgettable moments, and Tanzania really showcased Africa's beauty.
I got my "Africa fix", Pete got an introduction to a safari adventure, and we only have to settle the question of "Where to next?"!
Ellen and Pete went on our
Serengeti Explorer Trip
, but The Adventure Company also offer many more trips to
Tanzania
. Find our more information on our
website
Thanks for reading,
The Adventure Company