This weeks blog comes from Tom Haddow, our Flights Assistant who recently took the plunge and completed our Active Dalmatia tour in August of last year. He has let us sneak a peak at the travel diary he kept whilst he was away..:
"
Day 1
After landing in Split airport we were transferred to Trogir, a nearby scenic town, to relax and stretch our legs after the flight. Trogir was very pleasant, we enjoyed a stroll down the river front (lots of very expensive boats!) and then struck off down a back alley finding our selves in a small square surrounded by cafes and ice cream stalls. We then sat down and got to know each other over a beer, or in Croatian, pivo, before being guided back through Trogir to the minibus and continuing on to the hotel.
Day 2
We woke up and proceeded down to the restaurant of the hotel where we were welcomed by a laid out breakfast of bread and spreads, cereal and yoghurt, on top of which we were soon offered our choice of cooked extras and hot drink, almost any request catered for! After breakfast we were transferred up river to start a very enjoyable and gentle introduction to canoeing on the Cetina river. Paddled/floated all the way back down to the hotel which was situated very conveniently on the river bank so on arrival we were able to just deposit our canoes and head to our rooms.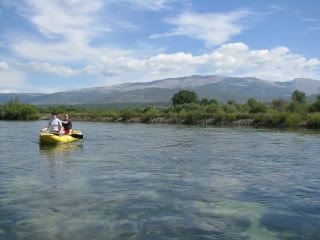 After a lunch of stuffed peppers and meat soup we embarked on a short trek across the river and up to a small chapel atop a hill. Everyone we met was very friendly and our guide Neven seemed to know everyone. Once reaching the chapel we stayed to enjoy the view of Trilj, the town in which we were staying, before heading back down for a dinner of locally produced veal and bed.
Day 3
Today we enjoyed breakfast as before and as we would the rest of the week and then went out back of the hotel and were transferred up a hill behind Trilj to start the mountain biking activity. First thing to explain to anyone considering mountain biking in Croatia, they bizzarely seem to have the brakes the 'wrong' way round, after a little getting used to it became second nature and no-one had any problems with this. The route was initially a largely uphill segment before a much appreciated and much longer downhill segment.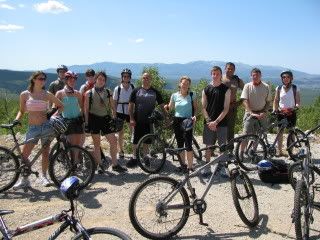 When we were most of the way down Neven took us on a detour to a river source which was absolutely stunning, even despite the incredibly cold water most of the group went in for a swim (me fully dressed as I had not brought any swimming gear at all!).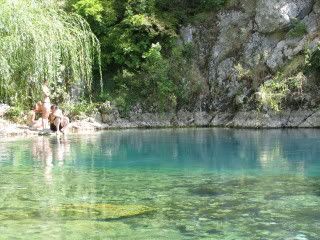 After an hour or so here and feeling utterly refreshed we were guided round another couple of smaller river sources in the area before being treated by a local family to a typical local snack lunch of bread, cheese and cured meat, after which we headed back to the hotel.
Day 4
After a more sedate introduction to canoeing earlier in the week this was due to be a more adventurous version. We were transferred down river and kitted out with wetsuits, life preservers and helmets, before heading out on to the river, after careful instruction from Neven we proceeded down the very rough river over the many rapids. I had obviously picked a good partner as our canoe managed to stay the right way up all the way down, a feat not managed by everyone! At the end of our route down the river we landed on the riverbank and had a light lunch and were driven to the seaside to enjoy a beach for a change of pace.
After getting back from the beach we headed off to the river bank upriver and when it was dark were treated to trout and banana split expertly cooked by Neven over a campfire. After which the more adventurous of us camped out for the night, leaving the rest of the group to return to the hotel for a more comfortable bed.
Day 5
After all the excitement of the white water canoeing we were in for a more relaxing day. We were driven up to the nearby historic town of Sinj, where our other guide Gorjana (harder to pronounce than it looks, by her instruction we all addressed her as Yana) gave us a guided tour which included a look around the local monastery which had a very interesting history and seemed of particular importance in the area before heading to the town museum. The museum was very interesting and gave us a much better insight in to the history of Croatia, specifically the area we were staying in, Dalmatia. One particular nugget of knowledge I committed to memory is how the spotted fur of the Dalmatian breed of dog apparently symbolises the many islands off the coast of Dalmatia!
After our tour of Sinj we were taken back the hotel. The following afternoon Neven took us for another trek around the outer reaches of Trilj, again demonstrating just how much of a local boy he was, hardly passing a single person without a friendly word. Neven at one point on the tour took us to someone's house where we were 'treated' to home-made liquors, very strong, some people seemed to have a slight wobble on the return walk to the hotel…
Day 6
After eating breakfast and setting off at around 1000, we transferred up to the start-point for the white water rafting. The rafting was actually organised and led by a set of specialist instructors who were all very friendly and seemed to have a very strong rapport between them. One leader per boat on which there would be about 7 additional people, slightly rougher rapids than we had experienced on the canoes but we were expertly guided down the river by our rafting leader.
Part the way down we all disembarked and were guided through a cave before rejoining the canoes on the other side.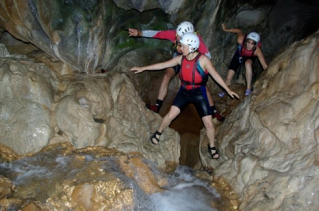 Day 7
At the normal time of 1000 we met and after we had had breakfast were driven to KRKA National Park. Gorjana took us for a tour round the park and was on hand if anyone had any questions, after the tour we were left to our own devices to explore and enjoy the spectacular views while some of the group went for a swim.
After dinner at the hotel we were surprised by the hotel owners with a cake to celebrate the joint birthdays of one of the group and Neven, one of our guides, after which we went to a local bar for a couple of drinks and an introduction to Croatian card games.
Day 8
Sad farewells and the flight back to the UK.
A big thank-you to all the group, the hotel staff and Gorjana and Neven especially for making this such a fantastic trip. Look forward to hopefully returning to Croatia in the future!"
Tom and his friends went on the
Active Dalmatia
tour, but The Adventure Company offer six trips to
Croatia
which cater for families, groups and solo-travellers. Visit
The Adventure Company Website
to find out more.
Thanks for reading,
The Adventure Company.