Our customer blog entry this week, comes from Rebecca Pride who recently travelled to Slovakia on our Tatras Winter Adventure and indulged in some winter fun in the Tatras Mountains. She kindly shares her travel diary with us here:
"
Day 1
Much of the day was taken up with travelling to our base for the week, a lovely family run pension in the beautiful village of Zuberec. We were relieved to see plenty of snow on the ground, our week of winter fun had begun!
Day 2
After a good nights sleep and a big breakfast we headed off to the slopes for a day of skiing.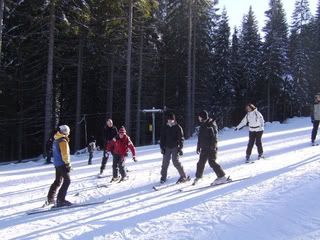 We split into groups based on our skiing ability and headed off. Our morning lesson was a great introduction/refresher for us beginner skiers and by the end of the morning, having conquered the chair lift we all felt ready to go!
After a short lunch of hot soup and hot wine (essential in temperatures of minus 15!) we were ready to face the slopes on our own. After many runs up and down we started to get the hang of it and crashing into Slovakian families was certainly one way to meet the locals!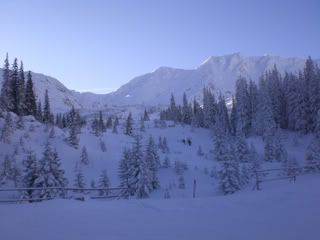 It was starting to get a bit cold and legs were starting to ache so some of us headed back to the café to warm up (hot wine again). Our guide Lucia suggested walking up to the second chair lift and taking that to the top so we could enjoy the views.
With much relief we changed out of our ski boots, back into regular walking boots and headed off up the mountain. The short walk and cold ride to the top was definitely worth it, the views at the top of the mountain are stunning, and watching snow boarders and skiers hurtling down past amazing scenery certainly made me want to try skiing again.
After meeting up with the rest of the group we headed back to the pension for hot showers and dinner.
Day 3
Today we headed back to the ski centre and had a free morning to brush up on the skills we learnt yesterday. After successfully completing a couple of runs up and down I decided I was brave enough to tackle the next chair lift. This didn't quite go to plan and ended with me skiing into the car-park – I told myself it was intentional!
After handing back our skis we took a short walk through the snow covered woods to a lovely local restaurant for lunch. Seeing as it was the day of giving things a go I decided to try to Slovakian dish of Halusky, potato and pasta dumplings covered in cheese with bacon – just what I needed!
After lunch we headed off to the thermal pools in Oravice. After relaxing in the first set of pools we decided it would be a good idea to run across the snow and ice to the main thermal pool(!). So off we went as quickly as we could – it was minus 15, we were wet and in swimming costumes – having made it safely into the main pool it was well worth it, we warmed up, rested our weary legs and enjoyed the view of people skiing down the mountain – random!
In the evening we decided to venture out into the village of Zuberec and find somewhere for tea. Earlier in the day Lucia had pointed out her favourite restaurants, so decked in all our winter gear we headed off into the village. We managed to get 2 tables in one of the recommended restaurants and enjoyed an evening of traditional Slovakian food and folk music courtesy of the live folk band.
Day 4
Today was the activity I'd most been looking forward to snow-shoeing, a chance to walk in the beautiful mountains and see nothing (or no-one) other than the amazing scenery. Today we would be joined by a mountain guide Frank who throughout the walk would stop to point out animal tracks or tell us stories of the mountains.
Our target for lunch was to reach a frozen waterfall. It was really spectacular and the photos don't do it justice. Snowshoeing certainly keeps you warm, but as soon as you stop you get cold very quickly – so we didn't stay at the waterfall for long.
After lunch we started to head back down but took a slightly different route which firstly took us back up a hill (!) and then down a path that hadn't been used that day. Descending down through the trees was certainly an experience I'll remember.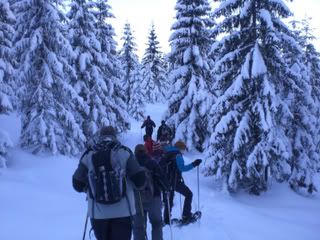 That evening we headed off to a local restaurant that Lucia had booked for us. After another lovely meal of traditional Slovakian food (there is another story about a pork knee which I won't go into now – but lets say it was a meal none of us will forget in a hurry) we headed off to the local open air museum to learn about traditional Slovakian life.
We were welcomed into the museum by Richard and his family, they live on-site in one of the traditional old wooden houses (with a few modern amenities – they have just had their 3rd child), and enjoyed an evening walking around the village, finished off with a traditional drink, music and dancing and a traditional game.
Day 5
Dog-sledding! This morning after a short lie-in we headed off for a day of dog-sledding. We arrived in the field greeted by excited yelps from 16 energetic dogs. After a quick briefing we took it in turns to have a go in the sleds, the rest of us kept warm next to the fire, with the now customary hot chai and wine!
After we'd all had a go being passengers we were given the chance to be in charge, it's easy our guide said, "Haw" is left, "Gee" right and straight ahead is straight ahead. So off we went one by one, racing around the field. We took a short break and headed back into the village for lunch. After lunch we were in charge again but this time with no guides – with our lives in each others hands we all had a go!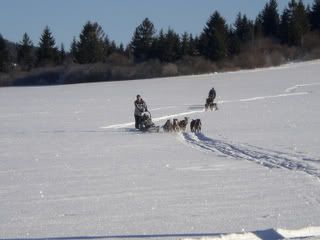 The evening would prove to be our most eventful as we celebrated the New Year Slovakian style. We were welcome by the pension owner, who had donned traditional clothes for the evening, and after a celebratory local drink we sat down for a brilliant 3-course meal.
Entertained through-out the night by a local folk band and the owner singing, we all joined in dancing and singing until midnight, where with the help of some sparkling wine and fireworks we saw in the start of 2009. All in all it was a night to remember and definitely an alternative New Years Eve!
Day 6
A much appreciated late start to today as we headed off for lunch with a local family. As we feasted on soup, bread and sheep's cheese, halusky, cakes and plenty of coffee we learnt a bit about Slovakian history from our guide Lucia and Slovakian way of life from our host family.
After lunch it was back to the slopes but this time for something a bit different – bum boarding! The idea was you walk as high as you can face, and then sit on a piece of plastic and throw yourself down the mountain! One by one we came flying down, sometimes successfully staying on the board and other times not, by the end of the afternoon we were covered head to toe in snow, and with bruises to show for our active afternoon.
Day 7
Today was our free day where we had the choice of cross-country skiing, snowshoeing, skiing or visiting a nearby castle or caves. Earlier in the week we had decided as a group to give cross-country skiing a try – how hard can it be, it's just walking with skis on…?!
After kitting ourselves out the mini bus dropped us off in a field and off we went, it took a while to get the hang of it but before long we were moving, in a fashion. Lucia was on hand to show us the correct technique and guide us over the hills and through the snow-covered forests.
It was the first day it had been snowing since we got there, so instead of the usual clear blue sky we were faced with a much greyer, overcast sky, but the views of the surrounding mountains and hills were none the less spectacular.
After a lot of falling over we eventually made it to the restaurant for lunch and a welcomed break.
After lunch we set off again but this time downhill – much easier physically other than the small problem of no one being able to stop. So after many multiple pile-ups, and with sides aching from laughter, and arms and legs aching from the exercise we made it back to our pension. We all agreed it had been the best day so far, if for no other reason than laughing all day long at our comedy falls.
That evening we headed out for our final night in Zuberec and last meal together as a group.
We arrived back in the UK to freezing temperatures and snow, which didn't compare to the beautiful white snow of the Tatras Mountains – a fantastic trip made even better by the brilliant group of people I shared the adventure with. I can't wait for my next!"
Rebecca went on the
Tatras Winter Adventure
with The Adventure Company. Find out more
hereHave you been to Slovakia? We'd love to hear about it. Leave a comment here or drop us an email at the side of the page or via the Facebook.
Thanks for reading,
The Adventure Company