Our latest blog comes from Eleanor, who travelled to South Africa to take part in our Rainbow Nation Family Holiday. Below are a few highlights of her trip:
"Our South African holiday has to be our best ever family holiday..
The Soweto tour was a wonderful start. Almost straight away we got invited to join a party. Some of the teenagers were a bit dubious about the food on offer, but we all appreciated the friendly welcome. It was a Sunday and we were all amazed at the number of churches and people dressed in their Sunday best.
Mandela's and Desmond Tutu's old houses were a must as was The Hector Peterson Museum. My daughter and I had recently watched a documentary about the schools uprising in 1974 and I was moved to watch her take her 13 year old brother under her wing to explain what had happened there. We were also all invited to meet Queen Elizabeth of Soweto.
The visit to the Shangana village was another special day. The kids were invited to blow the welcome horn and some of them even managed to make a noise!
They then got a chance to join in a dance with some of the local children.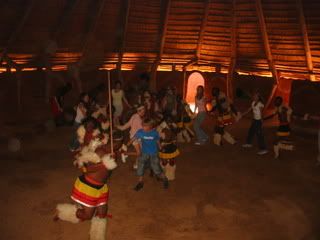 Kruger cannot fail to delight. Our list of animals and birds seen grew to about 30 including all the ones you would expect – elephant, giraffe, monkeys, 57 varieties of antelope! But the special highlight was seeing not one but 2 leopards with cubs.
Our driver Khosa deserves special praise for not only having amazing game spotting skills (something he puts down to the effect on his eyes of the smoke from so many nights round camp fires!), but also for his limitless patience in helping us all to pick out the leopards that were so well camouflaged in the trees.
The bats at a café we stopped at one day were another unexpected treat:
Another real plus was simply life on the road. Not just for the places we saw but travelling itself because this was where the teenagers really started to gel as a group, due to them having to help with the chores – loading the vehicles, cooking and washing up.
I know some children are very outgoing and can make friends almost instantly but my two are quite shy and having to work together as a group really helped to break the ice. So much so, that the seating pattern in the minibus changed after that, with all the youngsters at the back playing games while all the adults got the seats near the front. My children are still in touch with the friends they made on this trip via facebook.
We didn't make our fortunes gold panning but it was lots of fun.
Swaziland was another big hit with old and young alike. Even I enjoyed the market - and I am well known for hating shopping in all its forms.

After the market we went on to Malolotja – a magical place where the youngsters got to scramble over some amazing boulders as the sun set.
I think we were all a little sad to say goodbye to the wild places and head for the coast but Umhlanga (pronounced Umshlanga) was a good place to chill, enjoy the beach and some more upmarket facilities. The sea was warm enough for some of the group, despite being August and therefore winter.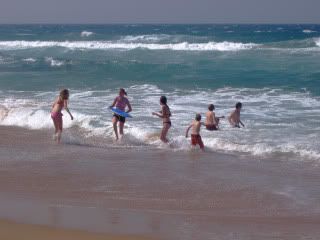 It was also good to enjoy the freedom to wander without our tour guides and there was still wildlife to be found in the rockpools for those who wanted to.
We had chosen to include the Cape Town extension and were very glad we did as it is such a colourful city in every respect.
We were lucky enough to see Table Mountain without its 'tablecloth' of cloud and enjoyed seeing the penguins at Boulders Beach. But the things that really stand out in my mind were the visit to Robben Island where Nelson Mandela spent so many years and the District Six Museum.
After such a wonderful trip we can't wait to do another!"
Eleanor and her family travelled with us on the Rainbow Nation Family Holiday.

Please check the website for the latest pricing, availability and a full itinerary!
Thanks for reading,
The Adventure Company
"Adventure is our middle name"