When it comes to national treasures, Peruvians have a lot to feel proud of. But it's not just the majestic monuments and natural wonders that fill the locals with patriotic pride.

You might have climbed Machu Picchu and ridden a bone rattling combi around Lima but only a seemly reverence for the country's iconic cocktail, Pisco Sour, will win you culture points with the locals.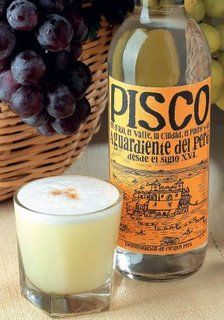 Pisco Sour
Five years ago, Peruvians pestered the government for a day dedicated to the drink they adore, believing it to be one of the best cocktails ever created.
Officials duly caved under the pressure and
Pisco Sour Day
is now held on the first Saturday of February each year, - and each year the festivities in towns and villages around Peru getter bigger, and go on for longer! This year therefore, Pisco Sour Day will be held on the 7th February 2009.
The past of Pisco
For those who aren't familiar with the renowned cocktail, an understanding of their history may help..
Pisco is a grape brandy meaning "little bird" and actually reaches back to the 1500's and stems from the Colonial rule. After the Spanish brought grapes with them to Peru's general area, they were grown within the deserts, and the new climate and soil gave the grapes it's own unique fragrance and taste. The King of Spain soon abolished wine in the 17th century, and so locals turned their hand into creating something other than wine that was just as delicious, by themselves.
Soon after the port in which the new export was shipped from was also called Pisco. By 1630, casks of Pisco were so valuable to people they were used as means of payment for houses and land. So popular, it was thought that at this time up to 20 million litres of grape brandy were being exported each year.
It has always been distilled from fresh new wine since then, and is distilled in a stop-and-go process, rather than a continual. Water is never added either so the percentage is as natural as it can be.
True Pisco
Like any other spirit, a true, well-matured Pisco can be distinguished by its fragrance and taste. In Peru, a test known as the "rope and rose" is used to determine quality. By shaking a bottle of quality Pisco in circles, a viscous formation will appear spinning in a whirlwind along the bottles vertical axis. The column of bubbles is so called a "rope" and the bubbles on top will appear to form the "rose".
Another note, is that to truly appreciate Pisco and its cocktail namesake, there is a saying which dictates "the drinker never have one as it is not enough, but more than three is too much".
The Pisco Sour
An American named Victor Morris who worked in the The Morris Barin Lima, invented the Pisco Sour cocktail in the 1920's. Soon after, the grand hotels in Lima began serving the cocktail, and word spread internationally, and eventually onto most menus in cocktail bars you visit today.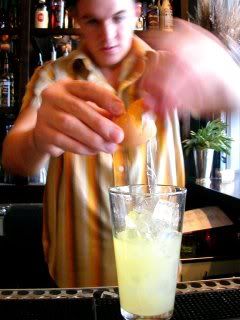 The cocktail is made from the Peruvian brandy Pisco, mixed with lemon juice, egg whites and syrup and topped with cinnamon. It packs quite a punch and provides a refreshing change from the local beers usually on tap.
Pisco Sour Day 2009
Last year was full of riotous celebrations, as thousands of people gathered on the Pan-American Highway and were united in a mass "cheers!" as they clicked their cocktail glasses at midnight, in an attempt to set a world record.
Dance productions ran through the night all over the city, and at the official Pisco Bar in Lima, the celebration lasted two days and the bar created a specialised menu which offered 30 different types of Pisco-based drinks.
The 2009 knees-up will be no exception, with events scheduled to take place all over Lima, in the districts of Surco, Barranco and Miraflores. Activities include opening ceremonies, markets, a parade, a mass cocktail making contest
All the Pisco producers gather to display and offer tastings of their wares and festival highlights include artistic shows, bartender contests and a gastronomy display of traditional Peruvian foods and Limeñan desserts.
Look out for a bread that locals make just for the celebration, called "Pisco Pan' which is made from Pisco distilled in Surco and raisin jelly which is then moulded into a sweet bread, and has a shelf-life of three days, the same duration as the parties many people hold.
How to make a Pisco Sour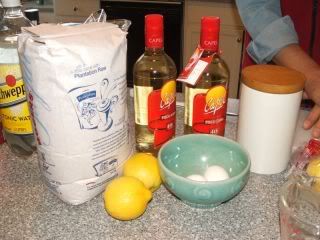 If you don't know how to make the infamous drink, have a practise at home before you go, and come across as a connoisseur when you arrive. Here is what you will need:
Ingredients
½ Cup of sugar
¼ Cup of water
½ Key lime juice
1 ½ cups of Pisco
3 Egg whites
2 cups of ice
Angostura Bitters (Flavouring)
Preparation
1. Make sugar syrup: put sugar and water in a pot and bring to the boil. Boil for one minute, remove from heat and let it cool.
2. Place sugar syrup, lemon juice, Pisco, egg whites and ice in a blender until very frothy
3. Serve in small thick tumblers, with a dash of bitters in the middle of the foam.
Tip: Egg whites give the traditional frothy top layer, but some people like to leave them out.
Serves 6-8.
A Pisco in Peru with The Adventure Company!
With the whole of Peru patriotically partying in February, why not visit Lima, or elsewhere in the country and really let you get caught up in the celebrations. It's the perfect excuse to combine the party with a cultural tour of this beautiful area.
The Adventure Company offer 10 tours to
Peru
, each with a different itinerary and suitable for different kinds of travellers.
Special Offer: Book early now, and save 50 pounds- find out more information
here
Watch the Peru Video from our Youtube channel to find out what it is like to be in Peru with The Adventure Company:
We are currently looking to include a blog with a past traveller to Peru. Have you been to the country with The Adventure Company? Have you partied in Peru? Do you have pictures of you sipping Pisco on location? Please get in touch- Leave us a comment, or get in touch via the email addresses on the right hand side of the page.

Thanks for reading!
The Adventure Company
"Adventure is our middle name"