Our latest entry comes from Matt Westby who recently went to Morocco with us on our
Winter Toubkal
, and experienced a different side of the country- far from the deserts and vibrant cities, its clear Morocco and the Atlas Mountains are fast becoming a haven for adventure travelers. Here is what he had to say: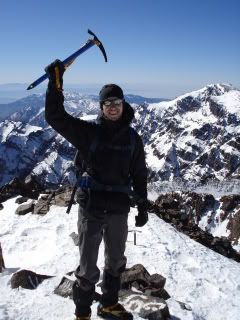 "Our guide Issam halts the group just yards away from a 1,000m drop into the abyss and invites us to rest.He appears not to notice it as he passes around a bag of nuts and then waves a Gore-Tex clad arm in an easterly direction.
"Look, you can see the summit. It's about an hour away. One-hundred-and-eighty metres more to climb."We all crane our necks towards the cloudless blue sky and, sure enough, there is the top of Jebel Toubkal, 4,167m high.Soon the sound of crampon spikes biting into the hard snow can be heard once again and we are on our way, keenly zig-zagging a path up the slopes.
Fifty minutes later, the incline runs out and all there is left to do is take the final steps onto the summit and complete our conquest of the highest mountain in North Africa.With not a breath of wind in the air, we stayed there for the best part of half-an-hour, taking photos, eating energy snacks, but, most of all, absorbing the awe of the High Atlas mountains.
Snow-capped summits penetrate the horizon in a 360-degree panorama and it feels a true privilege to stand there.
The climb up was no Alpine ascent but the relative ease of reaching the top of Toubkal is actually its greatest attribute, because it allows you to enjoy every step.
The greats like Hillary and Mallory might not hold it in high esteem, but for an aspiring adventure traveller, it is a real gem.
My trip to the High Atlas had begun three days earlier.
I had known very little about Morocco until this summer, assuming it to be nothing more than a country of sand dunes, snake charmers and people who love to haggle. A place for sun-seekers and culture junkies, I presumed. I'd go there one day, but not yet.
Then I heard about Toubkal and, with it, my eyes were opened to a different side of Morocco altogether.
The lure of a 4,000m peak was suddenly fusing with the appeal of sprawling souks and fine food, and before long I had booked myself onto an eight-day tour with The Adventure Company, which is based in the UK.
I flew out to Marrakech, an hour-and-a-half's drive north of the mountains, early on the Friday morning and spent the day exploring the city's famous Medina.
It's main square, Djemma el Fna, is the centre-piece, a place where Berbers and Arabs unite in an explosion of sight and sound which doesn't really come to life until after dark.By day it is filled with cobras, vipers and men cradling monkeys but when night falls, legions of food vendors, musicians and street performers take over.
Bolder tourists immerse themselves in the action, eating tagine and lamb kebab from the barbecue stalls before peering through the crowds at whatever stunt is being pulled next.All the while, Marrakech's famous souks (markets) conduct their bustling business just metres away.
The next day, the seven of us in the group met up with Issam and Mohamed, two good local guides contracted by The Adventure Company, and drove out to the small Atlas village of Imlil before hiking the short distance to our first night's base, a small conurbation based on a hillside called Aremd.
Our lodging was a traditional Berber guest house with only mattresses on the floor for beds and one fire for warmth.The evening meal was a local dish prepared by our dedicated cook and, as it would all week, went down superbly well.
We rose early the following morning to embark on a six-hour trek to a mountain hut 1,300m higher up the valley where we would base ourselves for the next three days.The ground in Aremd was totally free of snow but by the time we reached the French-run Neltner Refuge at 3,200m later that day, the white stuff was knee-deep.
After a lesson in how to walk in crampons and use an ice axe for stability in the afternoon, we made our ascent of Toubkal early on Monday.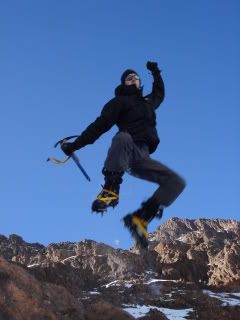 Emerging from the refuge at 7am to be greeted by clear skies and still air, we set out on our 3hr 40 min climb to the summit.Having succeeded, we celebrated by spending most of the descent sliding down the slopes on our backsides so quickly that, having left the top at around 11.40am, we were back at the refuge by 1pm.
On the Tuesday we tackled Toubkal's sister peak, Ouanoukrim, marginally lower at 4,083m but slightly harder to climb given a short section just below the summit which requires scrambling over exposed rock.
Regrettably, we didn't make it that far. We climbed to a small plateau on the mountain called the 'saddle' roughly one hour from the top but were turned back by 40-50mph winds which dragged temperatures down to between -15 degC and -20 degC.
The cold was manageable, but Issam deemed the high wind would be too much of a risk on the exposed sections to come and told us to turn around.
We concluded our climbing on the Wednesday by ascending 700m up to another saddle with stunning views over the Atlas range, before dropping all the way back down to Aremd in heavy snow that afternoon.
Twenty-four hours later we were back in Marrakech, ruing the fact that our time in the mountains had been and gone so quickly."
Matt went on the Winter Toubkal tour, clicking the link, you can find the latest pricing availability and a full itinerary.The Adventure Company also have 15 tours which go to Morroco

Kiddy explorers are also catered for as there are 3 tours targeted specifically at families with young kids are babies. The Magicial Morroco Infant holiday, Kids in Kasbahs, and theSaharan Sands ensure everyone is catered for!

Thanks for reading,
The Adventure Company
"Adventure is our middle name"