Cat Stormont and her partner Dan Shilcock recently completed a trip to Everest Base Camp together. They have kindly submitted an account of their trip, letting us know the highlights of their experience, and what it is like to complete this kind of trip with your other half!
"Day 1: Arrival in Kathmandu
After a long day of travelling our senses were assaulted by many different sights, sounds and smells as we arrived in bustling Kathmandu.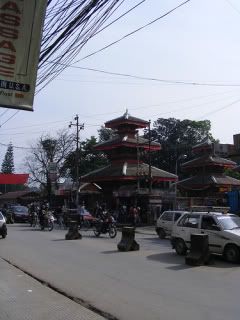 We were quite thankful for a free evening at the hotel to catch up on lost sleep and refresh before meeting with Prakash, our guide, and the rest of the group for more details on our trek. It's not quite sunk in what we are here to do yet.
Day 2: Kathamandu city tour
Woke very early this morning (2am) due to jet lag but luckily we both managed to drop off to sleep again. Prakash took us all on a city tour today, visiting four key historical/cultural centres in and around Kathmandu. We visited Monkey Temple/Swayambhunath Stupa, The Ghats at Pashupatinath, The Royal Palace at Pratan and the Boudha Stupa.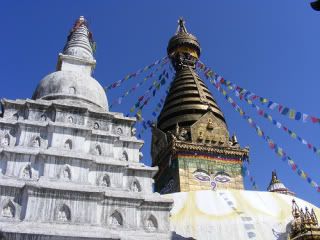 The heady mix of Buddhist and Hindu culture at these sites, interspersed with the hectic traffic and advertising bill boards makes Kathmandu an intriguing city.
Day 3:Lukla and Phakding (2800m)
Today we left the city for the mountains.
The flight from Kathmandu to Lukla is certainly an experience we will never forget, the views are unbelievable as you weave in between the mountains before coming in to land at the short, uphill airstrip at Lukla. Prakash eased us in slowly today with a gentle two hour downhill walk to the village of Phakding and at 2800m we can definitely feel a difference in the air.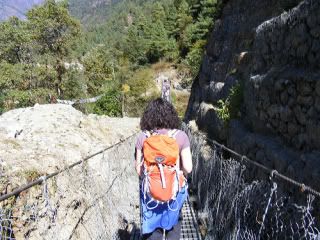 Day 4: Climb to Namche (3600m),
Slept very well last night and extremely glad as today was very very tough going. We climbed roughly 800m up some pretty steep and rocky paths. The air is getting a lot thinner and we found ourselves taking frequent breaks just to catch our breath.
So proud to make it to Namache, despite the aching feet and sore thighs from all the climbing.
Day 5: Acclimatising
We spent today acclimatising in Namche, but it wasn't a rest day. Prakash took us up to the Sagamartha Park museum by the army base, and then up further to the helicopter landing strip.
All in all we climbed another 400m before heading back down into Namche, a very vibrant place, busy with lots of trekkers and stores selling everything from pain killers and toilet paper to mars bars and souvenirs.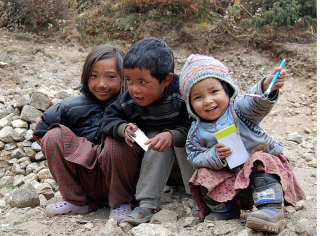 Had our first sighting of Everest this evening from the museum plateau, peaking enticingly over the Nuptse wall as the sun began to set. Suddenly realised where we were heading.
Day 6: Thyanboche (4000m)
Climbed anothe 400m today. Saw some amazing views of the Khumbu valley, Ama Dablam, Nuptse and of course Everest just peaking over the Nuptse wall before reaching the Thyanboche monastery where we are staying tonight.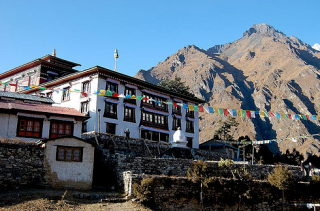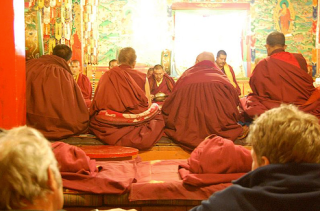 We had a chance to go into the Buddhist monastery and watch/listen to the monks chant. The wall paintings and tankas decorating the chamber were beautiful, bright reds, greens, blues and highlighted with gold leaf. Stunning.
Day 7: Dingboche (4400m)
Several of the team were feeling pretty unwell today due to undercooked pastries for desert last night. Everyone battled through and took it slow, making it to Dingboche by the afternoon.We're all feeling the thinness of the air and struggling to catch our breaths but the path only climbs gently from now on. It's also getting a lot colder in the evenings the higher up we go. Although warm in the sunshine, as soon as the sun goes down the temperature plummets.
Day 8: Acclimatising
Staying in Dingboche today to acclimatise. Prakash took us up to roughly 4700m today and it hurt. Could barely catch my breath and felt shaky on the way down the path. By the time we got back to the tea house I was exhausted and had a head ache.


Pain killers and a nap later, Dan and I took a walk around the village and appreciated a little quality time together.

Day 9:Loboche (4800m)
Today we climbed to the final stage before "Everest Day". Loboche is very cold and basic. There is very little to do but have dinner and head to bed to keep warm. We have an extremely early start tomorrow morning (5am) and at this altitude a couple hours sleep is the best we can hope for.

Day 10: Gorak Shep and Base Camp (5456m)
After breakfasting on mars bars we started our long day to base camp. Whereas most of the previous days were only about 5 hours of walking today we maxed out at 10 hours. Our first stop after roughly 3 hours of following the Khumbu glacier was Gorak Shep.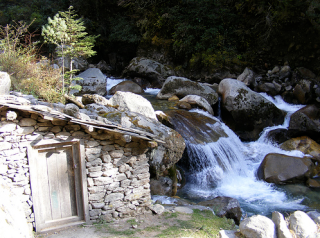 After an hour's break we set out for base camp, another 3 hours away. The path to base camp crosses into the glacier itself and the eerie silence is mirrored in the twisted formations of rock and ice.




At 5400m the altitude really got to me and I considered heading back down, although only 10 minutes away from my goal. But we made it together thanks to the encouragement of our team of guides.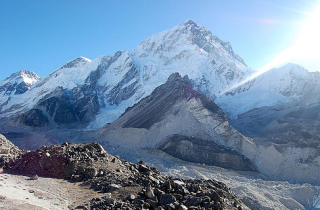 Whilst I wrapped up warm at base camp, Dan headed down to the edge of the treacherous Kumbu icefall. Un-acclimatised at such thin air and to make it back to Gorak Shep before dark we could spend little more than 15 minutes at base camp before heading back down to the village.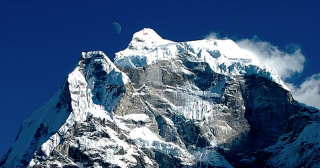 Day 11: Descent to Oshey
Whilst some members of our team braved the freezing morning temperatures to summit Kala Pathar for further views of Everest, the majority of our group began our decent. Having acclimatised to the high altitude, heading down was a breeze! We also had the chance to take in more of the scenery and pause for photographs which we were too tired to take on the way up. We also had more breath to chat and get to know the members of our group even better.

Day 12: Back to Namche
Back in Namche and a chance to celebrate with Everest beers.




Moving the party from the Tea house to the highest pool bar in the world we went to bed the latest we had for two weeks, 11pm!

Day 13: Phakding again
Another night in Phakding and we met a group at our Tea house who were about to start their trek the next day. They were clean and nervously excited about their trip to base camp. We on the other hand were now dirty, smelly, and had gotten to know the other members of our group extremely well.

Day 14: Final night in the mountains, Lukla
We made it! All the way there and all the way back again. Celebratory hugs all-round as we passed back under the gate arch as we returned to Lukla.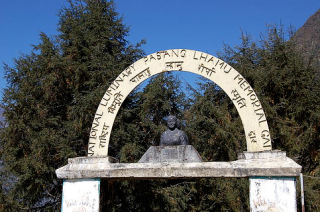 For our final night with our guides and porters we all had dinner together and enjoyed some traditional Nepalese music and dancing before another pool competition.

Day 15:Kathmandu and a shower
Flying out of Lukla was like a rollercoaster ride and as we circled back round to Kathmandu we saw our last views of Everest, Nuptse and Lotse.




From the solitude and simplicity of the Himalaya's we were once again assaulted with the sounds of car horns and street sellers and smells of spices, rubbish and pollution in the city.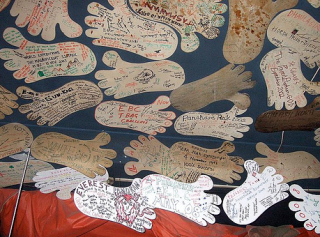 Following a much awaited shower and nap we joined the group for dinner at the famous Rum Doodle restaurant, decorated with the signatures of all those who have summited Everest.

Day 16 :Last supper in Kathmandu
For our last day in Kathmandu we headed over to the Thamel district, frequented by tourists and full of souvenir shops of puppets, hats, pashminas, tea and spices amongst a whole manner of other goods.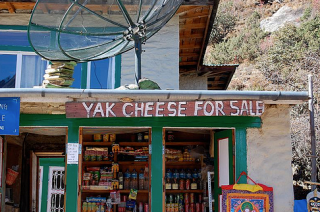 Sad to be leaving the Himalaya's and Nepal we all joined again for dinner to say goodbye to our guide, Prakash, before re-packing our bags for our early flight in the morning.

Day 17: Home
On reflection we miss the Himalaya's, the simplicity of life and the fantastic Nepalese people we met during our trip. Although tough at times there isn't a single thing we would change about our trip. The expertise of our guides reassured us that we would make it to base camp and that as long as we took their advice, we would get there in one piece.




Our photographs could never do the scenery justice and there are no words to describe the sheer beauty of the Himalaya's, they are a truly natural wonder of the world".

Cat and Dan took part in the Everest Base Camp trip. The Adventure Company offer two trips to Base Camp, find out more information on pricing and availability by clicking here

Thanks for reading,
The Adventure Company
"Adventure is our middle name"