The Adventure Company were pleased when celebrity DJ Chris Moyles announced on his Radio One Show that he had agreed to climb Mount Kilimanjaro in January for Comic Relief…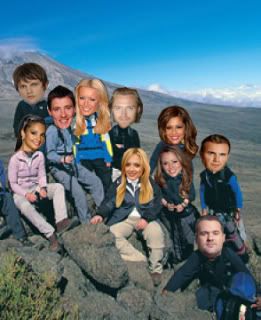 The trek was organised by Take Thats' Gary Barlow who decided to raise funds for the charity following his visit Africa 18 months ago.
Since then, a gaggle of kind-hearted celebrities have announced they will be joining the Radio show host on his trek. They include: Cheryl Cole and Kimberly Walsh from Girls Aloud, Denise Van Outen, Ronan Keating, Fearne Cotton, Ben Shepard, Alesha Dixon and The Sun's Gordon Smart.
Whilst we suspect some of the nimble-bodied celebrities may already have a training programme in place to help them on the climb, we look forward to seeing how Moyles, known for his love of cigarettes, curries and boozy nights will prepare for the experience. We have full faith in the disc jockey, and think its important to show that all kinds of people can, and should experience the climb!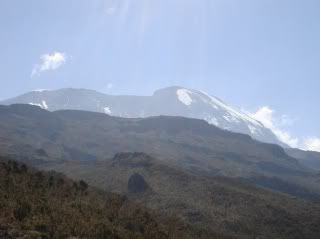 The climb itself is no easy feat, but we place emphasis on the importance of a strong mental focus, instead of just having a high level of physical ability. Climbing 5,895 metres however, will need some practice before leaving for the summit. See our
climbing tips
for Mount Kilimanjaro
Richard Mays
recently climbed Mount Kilimanjaro with The Adventure Company, and kept a travel diary of his trip. You can read his
Peaks of Tanzania
blog
He gives an insight of what we can expect to see when Moyles and co ascend to the summit:
"Promises of glaciers, amazing views and fantastic sunrises, along with headaches, dizziness and feelings of nausea, maybe even vomiting to all those who manage to get to the summit."
Chris Moyles may be used to early mornings due to his breakfast airtime slot, but the other celebrities may struggle with the early rise:
"Out of bed at 11pm, start trekking at 12am. 6.5 hours of trudging up a seemingly never-ending steep/very steep path in the cold night, whilst struggling to breathe and feeling dizzy"
He also describes how he felt as he approached the summit:
"It was an amazing feeling to have finally got to the top of Kili after having dreamt about it for so many months before the trip. For all 15 of the group to make it was just the icing on the cake and I'm sure the whole group will remember the trip fondly for a long time to come"
Richard completed the
Peaks of Tanzania tour
with us. It is great for beginner climbers, as the itinerary includes an initial climb to Mount Meru, which helps climbers acclimatise and increases the chance of success of making it to the top of Kili.
We also offer a number of other tours to Kili, see our page
here
.
Tours featured here include:Marangu Route:
Commonly thought to be the least strenuous route, it is also the only one offering the relative comfort of huts at night, so if you don't like the idea of crawling into a tent at the end of a hard day's hiking, this is a good option.
Rongai Route:
This route offers a different perspective of the mountain as it approaches from the north. Although you can expect a large number of climbers on Kili at any time, Rongai tends to be less frequented as numbers are more strictly regulated on this route and it can only be used for the ascent; you will descend via one of the other routes.
Machame Route:
Arguably the most challenging option, but considered to be the most scenic. The day-walks are longer and steeper than on the other routes, but your extra efforts are rewarded with breathtaking views while traversing the Western Breach.
Have you any tips we could pass onto Chris Moyles from your own personal experience of Kilimanjaro? If so, let us know and get in touch, either by leaving a comment below this post or on the Facebook.

Alternatively, contact us with any queries or questions you may have using the email addresses at the side of the page.

Thanks for reading,
The Adventure Company.
"Advcnture is our middle name"
*Location photos courtesy of Richard Mays