In September, Richard Mays joined 15 other people in Tanzania to start a 2 week holiday of trekking Meru and Kilimanjaro, a safari, drinking beer and speaking Swahili (badly, but did improve as more beer was drunk). Here are just a few details of the time he spent there:
"There's not enough space here to write the whole trip up, so I'll jump to the main event...Kilimanjaro. Kilimanjaro is Africa's highest peak at 5895m, and promises glaciers, amazing views and fantastic sunrises, along with headaches, dizziness and feelings of nausea, maybe even vomiting to all those who manage to get to the summit.
So with this in mind, the group of 15 trekkers, plus guides, cooks and an army of porters, leave Machame Gate, the starting point of the trek, some 1800m above sea level. The first days trekking takes about 5-6 hours and rises steadily through the rain forest along a well kept path. No monkeys were seen, but rumours of a hairy gorilla spread around the group.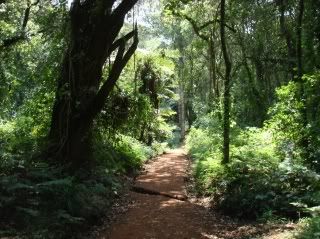 Day one
is spent at Machame Camp, 3000m above sea level. It is at this camp site that we get our first glimpse of the top of Kili. It's a long way off and looks a bit intimidating...and cold. It's also at this camp site we experience how quickly the sun goes down when you are almost on the equator, and how cold it gets once it has gone down. Straight to bed before 8pm then for us!
The second day is steeper and the route takes us out of the rain forest and into the heath-land, all of the time gaining height and on a number of occasions giving us some great view of the top of Kili.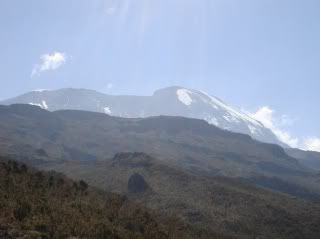 The destination for
Day two
is Shira camp, 3800m or so above sea level. Dinner at Shira Camp is one of the highlights of the trip as there is a birthday in the group and the guides and porters celebrate in true Kili style as shown in the following video.
Day 3
involves a lot of up and then a lot of down. We climb all the way to Lava tower, passing through the moorland and onto the alpine desert, some 4600m above sea level, so we feel like we are getting somewhere.
But then that is immediately followed by a lot of down. Back to around 3800m. Apparently it's good for acclimatisation. Climb high, sleep low we are told. Not so good for your legs, motivation, and feeling like you are getting somewhere... On the way down we pass through a place that can only be described as 'Dr Seuss land' with some huge 'Giant Groundsels' forming a small forest.
So after the ups and downs of Day 3 we arrive at Barranco Camp, and get a good view of what appears to be a near vertical, impassable rock wall, which we will be tackling straight after breakfast the next morning. Cue nightmares of falling off cliff faces.
Day 4.
So yes, that vertical impassable wall. It's called Barranco wall, and it turned out to be pretty easy after all. And fun. However, how the porters carrying the masses and masses of gear that they do, manage to get up it, I have no idea. At the top it looked like you could fall of the end of the world.
After Barranco wall it was a fairly easy trek to Barafu Camp. Now Barafu camp is the last camp before summit night. Luckily we did not spend much time there, as it was not a massively pleasant place. The combination of the difficulty to breathe at around 4600m, together with the rather unpleasant, "not serviced for a while" long drops, made us all hope that 11pm would come soon so that we could head off to the summit to get clear of the place.
So finally summit night arrives. This was what we had all come for, the main event. Out of bed at 11pm, start trekking at 12am. 6.5 hours of trudging up a seemingly never-ending steep/very steep path in the cold night, whilst struggling to breathe and feeling dizzy. Maybe I should take back what I say about laying on a beach for a week or so!
After what seemed like an eternity, the path finally popped out onto the crater rim of Kili. We were at Stella Point. All 15 of us had made it up the hardest part of the trek and it was just another 45 mins or so to the summit. The route from here was much more gentle though, we were going to make it. The sun was beginning to rise, suddenly all the pain was made worthwhile.
The views of the sun rising above the clouds far below us were fantastic. The light hitting the glaciers at the top of Kili was something amazing. Amos our guide wearing a crocodile hat whilst shouting out "Sunrise is just around the corner" will be something I will laugh at for the rest of my life.
Shortly afterwards, all 15 of the group were standing by the summit sign having photo's taken. It was an amazing feeling to have finally got to the top of Kili after having dreamt about it for so many months before the trip. For all 15 of the group to make it was just the icing on the cake and I'm sure the whole group will remember the trip fondly for a long time to come."
Richard took part in the Peaks of Tanzania Tour (Tour Ref: KU). Find out more about the
Peaks Of Tanzania Tour
Vist the Adventure Company
Website
Have you already been on a similar tour? What was your favourite part? Feel free to get in touch with us here, or below at one of our pages.
We're looking for content for our blog, and we'd love to hear from you and see some snaps of what you got up to!
Find other travelling pictures on The Adventure Company Flickr Account:
http://www.flickr.com/photos/theadventurecompany/
Or feel free to join our facebook page :
http://www.facebook.com/pages/The-Adventure-Company/10678802315
And take a look at the content on our YouTube Channel:
http://www.youtube.com/user/AdventureCompany
Thanks for reading!
The Adventure Company
'Adventure is our middle name'