Our latest entry is from Brenda Loft, a well travelled but a self-confessed adventure novice. She tells us about her first-time experience, having recently come back from our Turkey Activity Weekand lets us in on what it was like to take a holiday with a group of people you didn't know before you left..
"Having never been on an adventure vacation before, I was not quite sure what to expect from our trip to Turkey. My girlfriend Erica and I decided 6 months ago to travel somewhere and finally decided on this trip to Turkey with the Adventure Company. As we boarded the plane, we tried to guess who might be part of our group, and after recognizing Andy from his Facebook page and from The Adventure Company fanpage, (where we had originally enquired as to who else would be traveling with us) we made friends quickly.
Once we landed, we were warmly greeted by our Tour Guide Mert, who taught us some phrases and expressions that would come in handy over the week ahead. More importantly, once our bags were in our room, Mert took us all to dinner and out for dancing to start the week off, and help us get to know one another. Our group, which included people from Australia, England, Ireland and Canada, bonded very quickly, and the conversation was as free-flowing as the drinks.
Our first day, we went sea kayaking, and I was immediately taken with the beauty of the scenery, the colour of the water, and the peaceful yet exciting atmosphere. My kayak partner Mark, was a kind, pleasant man from England, and we traded life stories while we paddled with a little more competitiveness than perhaps was necessary. We took a break and climbed up to an ancient open air theatre and saw the scenery from another breathtaking perspective. Once back in the kayaks, Mert paused to give us detailed explanations of the tombs we saw, which were fascinating. Mert had a remarkable comprehension of Turkish history, and we quickly learned that was due to his extensive education, including a PhD in Archeology. A few of us commented that it was like having an authentic Indiana Jones to teach us about his country, we couldn't have anticipated such a knowledgeable guide.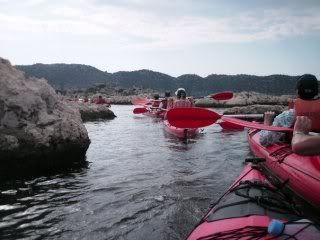 Our next break came when we reached the beach, and while most of us swam, we were treated to the singing and dancing of dozens of Turkish women on the two boats anchored nearby. We cheered to show our appreciation, and they were obviously enjoying themselves. After lunch, the trip back to the hotel, and a few hours of personal time, we all agreed to a group dinner, and dancing. This would become a regular nightly routine.
Mountain biking the next day caused me some anxiety! Most of the activities that were scheduled were ones I had never done before. I was particularly nervous this day, and was the last one to finally get a bike, and instructions. The activities were so well planned for all different ability levels, and our Mountain Biking instructor took plenty of time to explain (for the 15th time) the gears, brakes and his suggestions for a safe ride down.
After nearly choosing to follow the group in the van, I reminded myself that I hadn't flown all the way from Canada, and driven up a mountain in Turkey to ride back down in the van, so I set out with the other rookies, while the seasoned athletes led the way. Anxiety was quickly replaced with adrenaline, and as I got more comfortable, my speed increased. The unbelievable scenery made such an impact as we rode down the mountain, it was as if my soul took a picture. Midway through the ride, while waiting at a rest stop, we heard that Mert had an accident and was injured. Although he had multiple abrasions and possibly a broken rib, he had to be convinced to ride in the van for the rest of the day. The last portion of the route was increasingly difficult, and one by one the van picked us up as we gave up. Only the very seasoned athletes made it to the end, but I heard Paula and Mic, clearly the most athletic of our group, admit that the last part was a challenge.
Scuba diving and snorkeling was planned for the following day, and everyone was looking forward to it. The time on the boat was so relaxing and beautiful and the weather was so cooperative; it was a perfect day. It gave us all a chance to get to know more of the group, and I enjoyed a quiet, relaxed conversation with Helene while others read, dove, swam or listened to music. After 2 dives at different locations, and our trip back to Kas, a group consensus was made to have dinner on the beach. Once again Mert made fantastic arrangements for us. When we arrived later that night, the tables on the beach were lit by lanterns, and an impromptu gave of volleyball ensued, while others engaged in philosophical conversation. It was so beautiful and peaceful; the fire burned beside us as we enjoyed the delicious food, and relaxed company.
The next day was a "free day", and most of the group agreed to enjoy a Turkish bath. I had done some reading before the trip about Turkish culture and customs, but I quickly learned the difference between reading about something, and experiencing it. For that reason, I can only say that everyone should be so fortunate to experience it. After a hot sauna and playful water fight, we were exfoliated, cleaned, massaged and scrubbed by the friendly staff, and then rested while our facial mask reversed the effects of our late nights and vacation lifestyles.
The following day included a trip to the Turkish Mud Bath and Hot Springs. We traveled by boat and after a rest on the beach and some swimming, we arrived. We covered ourselves in mud and let it dry on us before showering and heading to the Hot Sulphur Spring. Our buoyancy was amazing and our skin felt so soft. Even the smell of the spring quickly subsided as we became accustomed to it and a few of us ventured under the water. Oh the sacrifices we make in the pursuit of beauty!
White water rafting was planned for the following day, and this was yet again something I had never done before. All week I had a sense of accomplishment from overcoming the fears of trying something new, and by now I was no longer nervous to try anything. I was impressed and reassured with the comprehensive explanations before each excursion, and how every level of ability was catered to. Now, I looked forward to the thrill of it. It was again something that was more enjoyable than I could have expected, and after the boat tipped the first time, we were all eager to find reasons to throw ourselves overboard. For those that preferred a drier boat, there was one, but by the end of the excursion, the wet boat had inherited a few more adventure seekers. For the final part, we abandoned the raft and opted to be carried away by the river. It was fantastic. This was our last full day in Turkey, and we all went out for dinner, dancing, and karaoke, and although the morning would come quickly, we still had a difficult time calling it a night.
The journey home took longer than Erica and I expected, but we couldn't believe how much fun we had, how fun each bruise was to get, and how wonderful the people we met were. Mert was an exceptional guide, giving us plenty of options for us to choose, and even helped the shoppers find the gifts and souvenirs they wanted.
He ensured that not only the activities were fantastic, but also that we enjoyed a wide variety of restaurants and cultural experiences. Everyone exchanged email addresses, and after a few days home, many of us have already reconnected and shared our pictures. I generally consider myself an avid traveler, having been to 22 countries thus far, but this was definitely the most enjoyable, relaxing and yet also exciting vacation I have ever had. I will not soon forget it."
Brenda and her group took part in the
Turkey Activity Week
. The Tour Reference for this is TAW on our site.
Have you been on a similar trip with us recently? If so, we'd love to hear from you. Please get in touch or leave a comment.

Thanks for reading,
The Adventure Company
"Adventure is our middle name"