Our latest entry is from Alison Tebby who recently travelled with us to South America on our Buenos Aires to Rio trip. She lets us in on her solo-travelling experience, and tells us more about the highlights of her trip:
"Who are you going on holiday with?"
"Myself"
"What do you mean yourself?"
"Just me and a few other people I don't know"
This is how it starts every time I say I am going away on my own, but being a solo traveller, doesn't mean I can't go and see the world and the Adventure Company helps me fulfil my dreams of travelling without having to pay a single supplement. Travelling alone just makes it more exciting, you know the destination but not who will be accompanying you on the journey.
So one afternoon in September I set off to Heathrow airport to start my journey to Argentina. I am going on the company's new Buenos Aires to Rio trip and I can't wait. I have never been to South America and now I can see 2 countries in 2 weeks.
The journey is always full of anticipation, scanning the people at the airport, are they going to be on the trip or maybe them over in the corner? Soon we are there and the adventure begins, introductions everywhere and I realise that out of the 13 of us, there are 6 solo travellers and I meet my roommate for the next 14 days, an instant friend.
Unfortunately we only had 2 nights in Buenos Aires but that was plenty of time to see the colourful La Boca district and get in a Tango Show, which was amazing (and thankfully no participation involved!).
Then we headed to the Argentinean and Brazilian border to see the Iguaçu Falls. I would wholly recommend seeing them from both sides In Argentina, you can see them drop to oblivion and can't imagine their size until you pass over to Brazil and can watch the water fall. Be prepared to get a little wet venturing near but on a hot day, it was actually refreshing! Another way to see them in their full glory is a ten minute optional helicopter ride, which was incredible.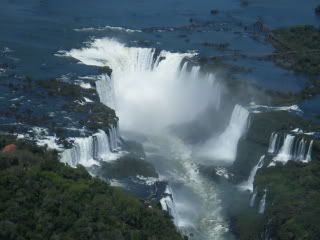 From here we headed inland in Brazil to Bonito for some freshwater snorkelling, where we were swept along in the current, narrowly avoiding fallen tree trunks and reeds, the fish oblivious to it all. La Gruto do Lago Azul (The Cave of the Blue Lake) is also visited on the second day here, which involves a steep descent into the cave and the inevitable climb back out! I thought our trip was graded gentle?
Next has to be my highlight of the trip, The Pantanal and a stay on a caiman ranch in the middle of nowhere. The hosts and guides were fantastic and went out of their way to ensure we had an amazing time. I finally got my first proper view of a toucan, which I had been waiting for since Iguaçu.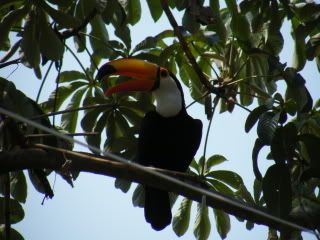 We also got to hold baby caiman and feed the adults, and 4 of us even braved the little boat ride around the lagoon! Thankfully the caiman weren't interested in us, but we still felt a little relieved when we were back on solid ground!
I even tackled another fear and tried horse riding for the first time, which is definitely a good way to see the area and spot the wildlife, although I'm not sure I'll take it up as a new hobby just yet.
I was sad to leave the ranch but next stop was Paraty, an old colonial town on the Atlantic coast, south of Rio. It really is a pretty place and although we didn't have much sun going out on a boat, it was a nice and relaxing stop before we finally hit the hustle and bustle of Rio!
I had been looking forward to Rio the whole time, with Sugar Loaf Mountain and Christ the Redeemer at the top of my must see list. Sadly the day we got there, Sugar Loaf was engulfed in cloud, so we didn't see much from there. Christ the Redeemer faired a little better the following day, with only a little wind and the odd spot of rain keeping us company.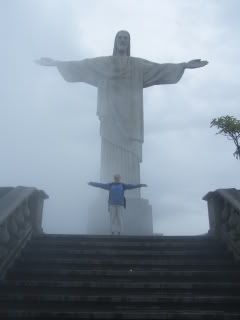 We stayed in Copacabana, which I would recommend to everyone, it was the typical image of Brazil walking down the beach and seeing everyone playing football, volleyball & surfing. Also a night at a Samba house, kept us dancing the night away and with a few Caipirinhas down us, we felt like locals!
Far too quickly our holiday came to end, but it was an amazing experience and I made lots of friends. I would recommend it to anyone. Travelling alone doesn't have to be lonely and just adds to the experience, I've already got my next holiday booked!
Alison went on the
Buenos Aires to Rio
trip. You can type in the tour reference: BP on our
website
to find out more.
Have you been on a similar trip? Or have you solo-travelled with us? We always like to hear from you. Please get in touch via the links at the side of the page, or leave a comment below.


Thanks for reading,

The Adventure Company

"Adventure is our middle name"