Our latest entry comes from James Randall, who recently went on the Pyramids to Petra Tour. He has kindly submitted his travel diary for us to look through, alongside some utterly amazing pictures of his time there!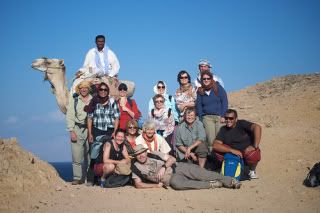 Day 1
-----
"After landing in Cairo and bafflement over the amazingly straightforward Visa process (seriously, its so informal you'll swear you've done something wrong) the group meets for the first time and boards a bus headed for the hotel and an introduction to Cairo's "interesting" traffic. Should the traffic be moving you'll think your driver is engaged in battle.
There is plenty of time for an evening out in Cairo and so we head down to Khan El-Khalili - a famous Cairo marketplace. From the perspective of the passenger seat in a black and white taxi Cairo's driving style is even more manic. I get out of the car laughing - either through fear or genuine hilarity, I'm still not sure which but its an experience not to be missed.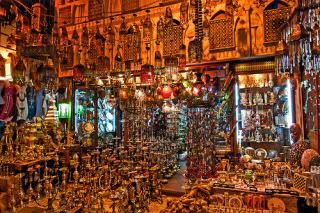 At night Khan El-Khalili is beautifully lit and you can, and we do, get lost in the back passages. Stopping for refreshment at one of the tea shops the mint tea turns out to be very refreshing and we samplea Shisha. Its well worth spending time in the backstreets as there are all manner of fascinating shops and workshops.
Day 2
-----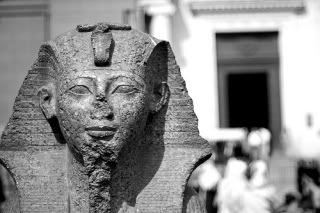 A relaxed start to the day and we begin by heading over to the Egyptian Museum. The museum houses a ridiculous number of pieces and its great to have a guide who knows the highlights. The amount of gold on display in the Tutankhamun section is phenomenal - he was clearly a fan of bling.
Following the museum its off to the Pyramids and the Sphinx - its worth keeping an eye out for them as you drive over to Giza as one of the most memorable views is seeing them appear in the distance over the city. Up close some of their majesty is lost by the swarming hordes of tourists and constant attempts of locals to sell camel rides and pyramid souvenirs. Oddly to me they were at their most impressive from the inside - entering one of them and descending to the central chamber you can't help but feel the weight of the stone.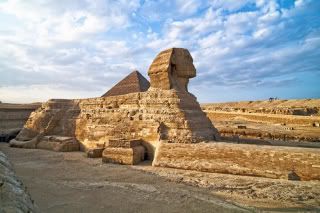 Day 3
-----
Most of the day is spent travelling from Egypt into Sinai but there are some memorable sites along the way. After passing under the Suez Canal through the short tunnel we pull over at a bedouin camp in the desert. It was my first experience of desert and it's amazing to see people living in such dry and dusty places.
Heading down the west coast of Sinai we stop off alongside the Gulf of Suez for lunch at a "hot cave" - a cave heated by a dried up hot spring. Finally we turn east and end up into the mountains towards Mount Sinai stopping off at the Seven Sisters Monastery along the way.
On arrival at the hotel Mohammed our tour guide gives the "shock" news of a 12.30, as in 12.30 in the morning, start to head up Mount Sinai. Unsurprisingly the group all flee to their rooms to catch some sleep!
Day 4
-----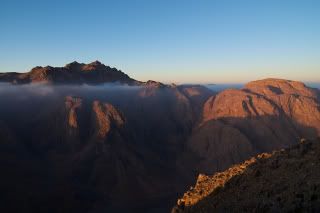 A bleary eyed 12.30 early morning start to the day! Happily I managed 3 hours sleep. Its surprisingly cold as we all board the bus for the short 10 minute journey to the base of Mount Sinai where we meet our Bedouin guide. Passing through the security gate at the visitors centre I'm stopped and my rucksack examined - my turned off iPhone seems to cause some alarm and explaining that something with no buttons is a phone proves less than straightforward: obviously not out in Egypt yet!
As we head up Mount Sinai our very much mixed age and mixed ability group gets a little strung out with some opting to take a camel ride to the top. Our Bedouin guide bares the brunt of this - he must have ascended and descended the mountain 3 or 4 times that night keeping tabs on everyone, fit fella!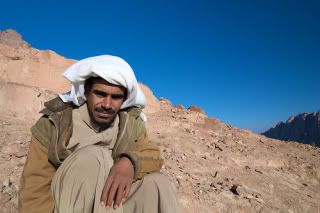 The higher up we get, the colder it gets and the calls of "rug, 20 pounds" become more and more tempting. As we make it to the top early we all huddle under our rugs for an hour drinking warm tea in one of the rest points making our way up the final set of steps shortly before dawn. And man is it worth it. The sunrise on Mount Sinai is spectacular to say the least, and very very cold!
Heading down we can see the path up which we've climbed - I was surprised by how far we'd come but its worth it and definetly not to be missed. If 12.30 sounds too early - trust me its worth it!
Collecting our belongings from the hotel we board the bus for a quick stop at St. Catherines monastery and head to Dahab.After the bustling city of Cairo and the stark beauty of the desert Dahab is yet another contrast. With the many bars and restaurants it feels very much like being on holiday where the Egyptians go for holiday. There's some great food to be had and some well deserved beer after the rigours of the morning.
Day 5
-----
The day starts with a jeep journey to the rendezvous with our camels. As we mount them everyone looks slightly apprehensive but its only when they stand up you get an idea of what you're in for. Until I was sat on top of one I'd not grasped how large they are, and until I'd sat on one for a couple of hours I'd not realised how uncomfortable they are! Lots of fun though.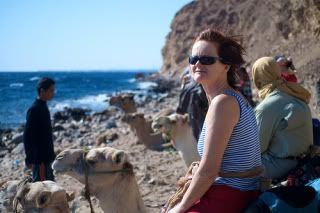 Eventually we reach our destination - a fabulous snorkelling area known as Ras Abu Gallum. Two Bedouin kids take a shine to me and insist I play with them (I didn't need to speak Arabic to realise I was expected to lose the playfight!) so it takes me a while to get water bound but once I am its spectacular with all manner of fish in deep pools close to the shore.
Being painfully aware I have to get back on a camel I spend as much time in the water as possible, before eventually having to leave. There's a chance for a quick snorkel where we left the jeeps before heading back to Dahab for a meal organised by Mohammed. The food is excellent though my developing "Egyptian Bowels" mean I restrict myself to plain dishes. As its our final night with Mohammed a few of us head out for some badly played and so very very long games of pool.
Day 6
-----
Most of the day is spent travelling to Jordan. We reach the ferry pick up point in plenty of time but no one is quite sure when it will arrive - this, apparently, is quite normal. After a short wait we're ferry bound and cross the Gulf of Aqaba into Jordan. On arrival we're met by our Jordanese guide Jamila who turns out to be quite a character with some great insights into her culture which she is happy to share ("Who wants four wives? You'd have to be mad").
We board our new (pink) bus and head into Jordan towards Wadi Rum. Sadly we miss the sunset and are unable to make it to the desert camp initially planned but its still a great evening: dancing, eating, and smoking the Shisha.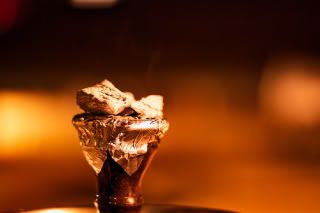 The night sky is fantastic with a clear view of the Milky Way so I sleep outside - most of the night I spend awake enjoying the view but how many chances do you get to sleep under such a clear night sky? Not many!
Day 7
-----
Dawn in Wadi Rum is spectacular and we get the first real chance to take in our environment. You can't help but laugh when you find someone good naturedly trying to sell you a camel ride at 6 in the morning!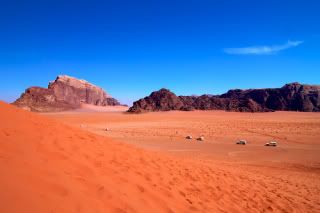 A short bus ride takes us to the Wadi Rum visitor centre where there's some interesting information about the environment (trust me you will be wandering how it was formed by this point) before we head off into the Wadi itself in open jeeps. Words and pictures can barely do Wadi Rum justice - it is simply spectacular and like no other place I have seen. Every new view left me breathless, its a staggering experience and possibly the highlight of the trip. Its certainly somewhere I plan on visiting again.
Reluctantly we leave the Wadi and begin the journey to Petra. Over the course of the journey the scenery changes yet again and Jamila pulls the bus over for us to look at what seems to be just a clump of strangely formed hills. It turns out to be the ancient city of Petra, its easy to see from this viewpoint how Petra stayed lost to the West for so long.
To make the most of Petra its an early start so after eating and a couple of beers most of the group head to bed
Day 8
-----
We start fairly early and walk to the Petra visitor center - from here its a short walk (a kilometer or so) to the ancient city itself. It begins with a small number of simple tombs before we head into a narrow gorge lined with channels for the cities old water supply. There are many points of interest as you walk through the gorge but eventually we reach the end, round a corner, and catch the first glimpse of The Treasury - the view and building made famous in Indiana Jones. Even if you've seen it in movies it doesn't prepare you for that first view which is astounding. I'd also not realised how big the building is - huge!
From here we head further into Petra and its about now you'll discover just how big the site is - its a massive archaeological site and their's so much to see that I was guide we had Jamila to point out the highlights. Some of the sellers on the stalls are real characters too - the "Last Bedouin in Petra" and the coin seller with a line in "for private display only" pornographic coins are particular highlights!
Day 9
-----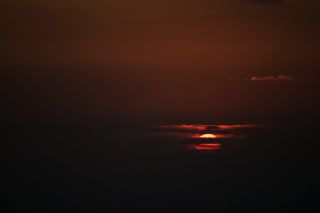 A relaxed start to the day as we head over to Dana National Park. As well as enjoying views of Dana the visitor's center is a highlight - as well as information on the local ecology their is a fascinating workshop where women work on the jewelery that is for sale in the shop.
Another highlight of the day is the music played by two locals in the guest house on an Ude and a drum - it turns out the macarena really is known everywhere.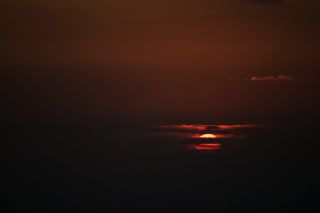 Day 10
------
For our final day our guide suggests an additional outing to Jerash rather than the planned free afternoon in Amman. Jerash is one of the best preserved examples of a Roman city in the world and is well worth seeing, particularly as its only an hour from Amman.
Jemila (our guide) also, and very kindly, invites us into her home where she has arranged for her family to cook us a traditional Jordanian meal (best meal of the holiday without a doubt). I can't thank Jemila enough for the hospitality she showed us - watching the sun go down from the balcony of her house was the perfect end to the trip.
Day 11
------
Sadly it's back to cold and grey England and goodbyes have to be said to the group. This was the first time I've been away with a group of people I'd never met before and also my first time on a holiday with guides and I was somewhat apprehensive about it but we had such a great mix of ages and characters that there was never a dull moment. I never seemed to stop laughing. The guides also proved their value time and again - particularly in the ancient sites where I would have missed out on much of the history without them.
The painful sting of returning was somewhat lessened by booking another trip, this time to the Galapagos. After the success of this trip it was an easy decision to book this through the Adventure Company too."
We'd like to thank James for his extensive diary and remarkable photographs, please check out his flickr stream here for more photos of his trip.

James went on our Pyramids to Petra Tour. Feel free to look at our website where you can find a full itinerary of the trip, price details and latest offers.

Have you recently travelled with The Adventure Company? We would love to hear from you. We are always looking for guest bloggers, and new video and picture content, so please do get in touch by either leaving a comment, message or contacting us through the details at the side of the page.

Also, if you haven't already joined our Facebook and Myspace pages, please do! It's a great place to share your experiences, talk to other travellers and share tips!

Thanks for reading,
The Adventure Company
"Adventure is our middle name"