This month, our customer blog comes from Barbara Marks and her daughter who travelled to Peru earlier this year:
"My daughter and I have just returned from our Classic Peru adventure and felt compelled to write to a blog to say what a wonderful time we have had. Every time we thought we had reached the pinnacle of a Peruvian experience it seemed there was another around the corner, and we were greatly inspired by the warmth and ingenuity of the Peruvian people we met.
I first heard of The Adventure Company at the 2008 Adventure Travel Show where I met your then consultant Matt Brimble. A lengthy discussion with him suggested that I might not be too aged/decrepit to tackle the Inca trail (!) and convinced me that the way that the Adventure Travel Company organise the trek is superior to that by other companies - this indeed proved to be the case. Having made my booking, we kept in touch and he was able to answer all my subsequent queries.
From the moment we landed at Lima and met our Tour Leader, Marco Ayalalanda, we were impressed with the level of organisation encountered. At our first briefing he provided detailed notes to which we referred throughout the holiday, and subsequently always kept us well-informed of each day's activities. Despite three national strikes during our time in Peru (which resulted in blocked roads and cancelled trains), Marco made every effort to keep to the planned itinerary and timetable. When this wasn't possible, the group was so cohesive under his leadership (we even called ourselves Team Marco when tackling the trail), and identified so well with his sense of humour, that it was never a problem. He went to so much trouble to see to our needs as travellers whether financial, cultural or culinary, that we cannot commend him highly enough. He is very proud of his country and its heritage and we learnt a lot through our conversations with him.
In addition, when my daughter Hannah fell ill with altitude sickness, Marco very swiftly called a doctor and looked after her whilst I went condor-watching with the rest of the group and the local guide Nancy. He even made personal transport arrangements for Hannah to join us later in the day, and was subsequently very solicitous about her health and strength. All in all, we thought Marco a brilliant leader, and we hope that other of your clients will be able to benefit from his experience, his caring nature, his sense of fun and his delight in seeking out the best culinary experiences whether in the local market in Arequipa (where he persuaded stallholders to let us taste local produce) or in restaurants. We will all remember his exhortations not to eat the lettuce! Our only disappointment was that he was not allowed (by the company) to accompany us on the trek – Team Marco without Marco lacked something!
Having said that, we would also like to praise the guides who did accompany us on the trek. Ed (Edwin) was good fun and deeply knowledgeable about the trail, its history and flora and fauna. He quickly assessed our level of fitness and set a very appropriate pace, in addition to being a great motivator. Just one of many highlights was having an impromptu astronomy lesson at our second campsite. His assistant Armando was an exceptionally patient back-marker with an equally good sense of humour. I have particular reason to sing their praises having collapsed whilst ascending to Dead Woman's Pass. They revived me with oxygen and encouraged and supported me to complete the trail, for which I shall be forever grateful.
Our guide Maria for the Lake Titicaca area was also delightful. She conversed easily with the islanders and greatly enhanced our visits with her local knowledge. I would say that our homestay on Amantani Island was a highlight for many of our group. We enjoyed the contact with 'real' Peruvians and appreciated the little touches such as fresh flowers in our bedroom and the after dinner party with music and dancing – followed by more star-gazing. My daughter and I are hoping to keep in touch with our host family via Marco and Maria.
My other most memorable experiences were walking through the Sun Gate at Machu Picchu at the end of the trek, thus realising a 40-year old dream, and being on the dunes at Huacachina at sunset – another little extra organised by Marco.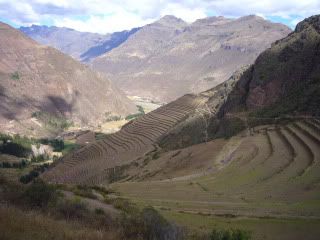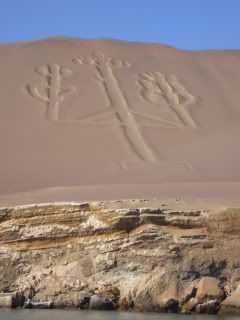 I feel the need to also pass on my most embarrassing moment! An hour or so into the first section of the trail, I was horrified to discover that the sole of my right boot had come adrift from the upper, followed seconds later by the left. They were old boots, but with excellent tread still, and comfortable trusty old friends (up to that point).
One of our group (a postman) produced an elastic band and Armando some sellotape with which he strapped the flapping soles to the uppers. At the first checkpoint I was able to retrieve some duct tape from my rucksack (which was in the bus taking Marco back to Cusco - we had stupidly decided that morning that it wouldn't be necessary to take it with us on the trek…) and miraculously we managed to buy some super glue in the tiny village shop. When we arrived at the campsite, Armando sat in his tent and glued the boots in the incipient dusk. Fortunately, at the last moment I had thrown my trainers into the porter's duffel bag, so was able to wear these that evening. The best news was delivered by Ed at supper that night – one of the porters was a cobbler and had promised to try to repair my boots the following day. What were the chances of that? The upshot was that my boots were delivered back to me the next evening, with new toe caps and meticulously stitched together. Instead of ditching them, I wore them for the rest of the trail and have brought them home hoping to wear them for many more years to come!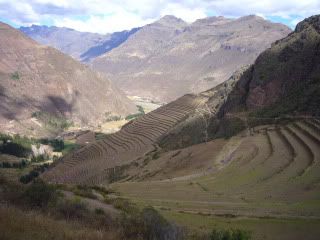 Having not been on a group holiday before, we were uncertain what to expect, but our experience has been so positive that we will definitely book with your company again when we decide on a similar adventure (though never again at such altitude!) and shall encourage our friends to do likewise.
With many thanks for my best holiday ever,
Barbara"
Here are Barbara's top tips for the Inca Trail:
"
My top tips for the Inca trail trek
•Take, or hire, the warmest sleeping bag possible (even with a bag with comfort zone down to -5oC and wearing everything we possessed we still felt very cold)
•Take, or hire, a thermarest mat (for the same reason – although the quality of the mats provided by the porters exceeded expectations)
•Take drybags (I took Exped bags) to prevent clothes getting wet from overnight condensation
•Take walking poles (all except one of our group either took one or hired one – my daughter and I, and both our guides, each had two, which was even better when struggling with altitude)
•Take insect repellent (there were lots of horseflies on day 3) and a 'Click' anti-irritant device (obtainable from Itchy Feet – mine was much used by the rest of the group) in case the repellent doesn't work.
•Take a metal water bottle – if you're really lucky the porters will fill it with hot water so you can tuck it into your sleeping bag!
•Check that your boots are trail-worthy!
•Take duct tape and/or gaffer tape or even super glue (you never know…)
•Pack trainers in your duffel bag so that your feet can relax when you arrive at camp (you might even want to include a sachet or two of foot soak to add to the hot water the porters bring to your tent)
•Keep your camera battery in your sleeping bag at night to keep it warm
•Take plenty of dollars to tip the porters – they do a fantastic job
•Take a clean change of clothes for the day after you arrive at Machu Picchu (we were holed up at Aguas Calientes for 2 nights due to a strike)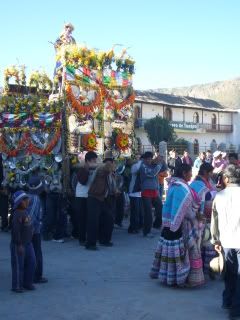 Are you interested in visiting Peru and completing the Inca Trail in 2009 or 2010? The Adventure Company can help. They have nine Peru holidays on offer, many of which include the Inca Trail.
Thanks for reading,
The Adventure Company