We've a special treat for you this month as we have not 1, but 2 blogs this month. Reason being, we've had plenty of enquiries recently about Everest Base Camp and we felt travel writer, Rob Lewis really summarised his time there perfectly. That's without mentioning his stunning pictures, of course...Everest Base Camp Trek
7 -23 March 2009
Rob LewisDay 1: Arrival in Kathmandu
The chaotic Kathmandu traffic on the journey from the airport is the first thing to make an impression in Nepal. It's a constant wonder how the cars, trucks, bikes and pedestrians avoid colliding. I'm convinced there must be some rules in play amongst it all but I can't figure out what they are!
The Hotel Tibet is our base in Kathmandu, a marvel of Tibetan architecture and design in red and gold. The facilities are clean and comfortable and the staff welcoming. Our Group Leader, Lalit, introduces me to the rest of the group who arrived earlier (my fault for booking so late!) and we enjoy a relaxed briefing from Lalit in the hotel restaurant over a beer or two. The Group of ten (six male, four female) get along well sharing the mutual excitement of the trip ahead. Everyone has their reasons for being here, mine is a fascination with Everest and the epic stories of successful and unsuccessful summit attempts. Base Camp is, however, definitely my limit!
Day 2: Guided Tour of Kathmandu
An early start the next morning sees us boarding a bus for a guided tour of the capital. A friendly Guide is aboard to show us around and he is a wealth of knowledge and information not to mention bad jokes! We visit the enormous Swayambhu stupa and temple complex complete with its resident monkeys and we take lunch overlooking the enormous Boudha Stupa. Our Guide is also keen to enable us to walk at our own pace through the bustling streets with all their sights and smells.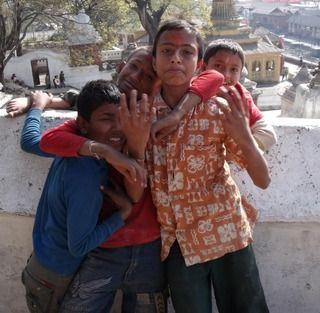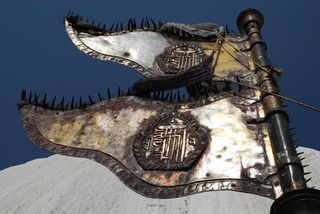 I have some fun taking pictures of the local children who never fail burst into fits of laughter when they see themselves on the camera screen. Following a visit to Patan Durbar Square we end the day on the banks of the Bagmati river to witness the cremations at Pashupatnath which is a sombre but equally fascinating experience.
In the evening I head down to the tourist district of Thamel to stock up for the trek. Thamel is a maze of insanely busy streets crammed full of trekking equipment and tourist shops and places to eat and drink. Its chaos is captivating and I dive right in. I pick up some cheap missing items of gear and plenty of chocolate and biscuits for essential energy!
In the evening we head out to a local restaurant where we sample the delights of live Nepali music and dance (including yeti and yak dancing!) and also try some raksi (a super strong local spirit) which could strip paint I'm sure but that doesn't stop me trying more than one. The food is great and my vegetarian diet is carefully kept in tact by our watchful Guide, Lalit who directs the waiters as to what should give me from the sharing menu. It's a great night.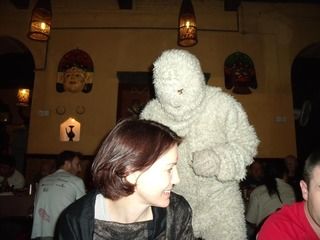 Day 3: Flight to Lukla and trek to Phakding
An early rise the next morning and nothing has prepared me for the flight to Lukla. The plane is a reasonably modern 16 seater but rather 'cosy' and I find myself looking over the pilot's shoulder for the flight and, most memorably, for the landing. Perhaps not a seat I would recommend for the nervous flier. Huge cheers and applause erupt upon landing together with a few signs of relief. Great fun though!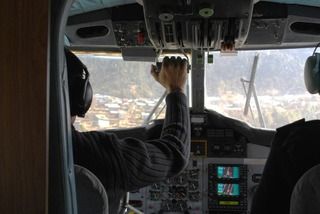 Once out of the tiny airport I get a first sight of the Himalayas which tower above all around Lukla and even here the view is breathtaking. Also noticeable is the thinner air after flying up from the Kathmandu valley, a sign of things to come as we all know. We dump our large bags and meet our other assistant guides and porters.
I marvel as the young porters load up, each taking two large bags on his back and roping over his forehead to spread the weight. And off they go, at a pace that will never cease to amaze me for the entire trip. We shall see them again each evening when they kindly deposit our bags in our lodgings (usually right outside our rooms).
And after a cup of tea and a quick equipment check (camera, sun lotion, hat, poles, sunglasses etc. etc.!) we are off. We trek for a few hours, mostly downhill which is a thankfully gentle introduction and take in the relatively lowland scenery of gorges, rivers and green fields of crops.
We arrive at our Phakding lodge which, to our amusement, is still under construction in places and we are the first to use our bare wooden bedrooms out in the back yard which have mostly only been completed that day. The room next to me is still being built and it looks like they had to finish mine in a hurry as, curiously, the ensuite bathroom door lock is on the outside!
Days 4 & 5: Namche Bazaar
The trek takes us up sunlit woodland trails which are steep in places and across long swaying suspension bridges over rushing white water. Those with a fear of heights cross tentatively whilst some others make the most of the experience and walk with an exaggerated bounce to their step which sets the bridge in motion and makes things a little more exciting!
We marvel (as always) as porters march across and up the track carrying simply ridiculous loads. One train of porters we pass carry slabs of wooden beams for building construction which must easily weigh 70kg. The weight is so great they're unable to raise their heads to look up and we must navigate carefully around them. I wonder what we must look like fitted with all the latest trekking gear when all we carry is a camera and some water.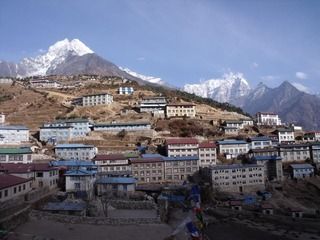 As we climb up and round a corner we come across our first view of Everest between the trees. It's a buzz to catch the first glimpse of the reason I'm here albeit a distant one but nonetheless the famous Everest 'plume' is visible and we all pause to take in the view and avail ourselves of the satsumas on sale from a local farmer who has obviously spotted a good location for business.
The proceeding steep climb up into Namche is rewarded with the sight of shops stocked full of essential trekker supplies and, after some rest at the lodge, we head out and stock up on warmer clothes and chocolate amongst other things. I rent a 4 season sleeping bag and buy a fleece liner to go inside. One thing I hadn't expected was just how cold things would be at night even relatively low on the trek. And things only get colder as you get higher. Others rent chunky down jackets which they intend to sleep in. One rule to remember is that you can always take the extra clothes off at night but you can't put things on that you don't have! Namche also has places to email, get a massage and play pool. It's no wonder that this is the first place chosen for us to stay for an extra night to acclimatise.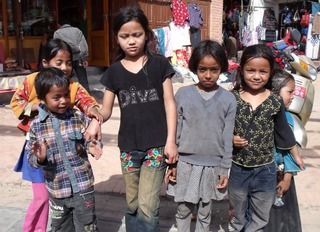 Namche is located 3,440 meters on crescent shaped mountain slopes and our 'day off' the next day is a climb up and out as we trek steeply up to the Sagarmatha National Park Visitor's Centre and then on (and up!) to a hotel suitably named 'Everest View' where magnificent views of Everest are available from the outdoor area at the back of the restaurant.
Day 6: Namche to Tengboche
The trek the next day from Namche to Tengboche is made a little easier by the previous days acclimatisation but is still tough going in places. That said, the pace, as ever, is moderate and involves frequent rest stops to allow us to get our breath back. Everyone is still feeling fine which is good news.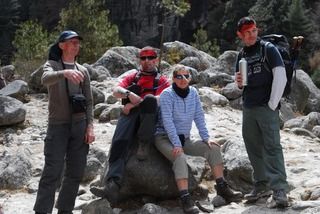 The views as we climb get ever more spectacular and I'm starting to really feel like I'm high up. We pass mountain goats and see our first Yak trains as they plod down the trails with incredible surefootedness on even the most rocky sections.
We pin ourselves against the mountain side (as instructed) to allow these huge beasts to pass on the narrow path, the theory being they are much less likely to topple over the edge than we are! I have to actually breathe in a couple of times to prevent a rather large pointed horn snagging on my jacket.
By this stage we are wearing windproof jackets and woolly hats and gloves. Gone are the t-shirts and shorts we wore on the way up to Namche. The wind has picked up notably and occasional strong gusts reduce temperatures instantly. The sun continues to shine down most of the time and sunglasses are still a must.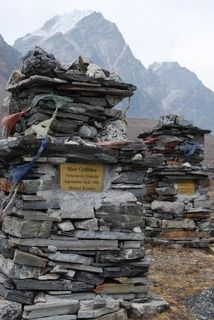 Our arrival in Tengboche is heralded by the sight of the highest monastery in the world at 3860m. Everest, Kwangde, Nuptse, Lhotse and Kangtega amongst others stand tall above and present a truly magnificent scene. After some negotiation Lalit gains permission for us to be shown round the monastery which was locked for the evening. Inside is a scene of utter peace and tranquillity with beautifully ornate decoration in oranges, golds and reds. Its easy to forget you are in the high Himalayas when wondering around inside.
From the monastery we walk behind and along a path to enjoy yet more jaw dropping views off to the west Also here are a few memorials to fallen climbers which remind us all that despite their beauty these mountains have a darker side. I linger as the others head back to the lodge to take in the sunset over the surrounding peaks and take some snaps. It's a wonderful feeling of remote wilderness and the silence is almost audible.
Day 7: Tengboche to Dingboche
I awake to a view of sunrise over Everest out of my bedroom window. Not a regular morning by any means! I miss out on an option to head over the monastery at 6am to watch morning puja (prayers) as I choose to grab all the sleep I can and remain in bed. I hear from others in the group who go that only 3 monks show up so perhaps the others made the same decision as me!
After breakfast we trek down dusty paths to a river where we cross and then start up the other side. The landscape is beginning to change now, gone are the woodlands and lush greenery, replaced by browns and greys with dense gorse bushes and rough grasses growing by the side of the trail.
We arrive at Orsa and stop at a remote lodge for lunch, we will actually be staying at this place on the way down although we don't know it yet. It's at this point that someone (I think I'm safe to blame Lalit) recommends garlic as a preventative measure against altitude sickness (AMS) and those with a liking order garlic soup and some raw cloves are handed round. What possesses me to eat one is anyone's guess but the effects are instantly unpleasant. I contemplate, as my eyes water and my breath strips paint, that I would perhaps have preferred a dose of AMS!
We walk for only another half hour or so before arriving at Dingboche at 4262m where we will spend another extra acclimatisation day. It's at this point, as we approach the lodge, that I start to feel the first effects of the altitude as my head begins to 'buzz' and I feel slightly dizzy. Up until now I had found things relatively easy going (I'm a bit of fitness freak back home) but now things start to feel like hard work.
The lodge is very basic (the rule is now clear – the higher you go the more basic things get!) and it seems like we're in for a cold couple of nights. As always a game or two of Uno is played before a couple of us decide to join another group staying at the lodge for a strange drama school game which I never fully understand followed by Charades where I struggle to play out a mime for 'Muriel's Wedding'… Generally it's hard to fill the time in the evenings and I berate myself for not having brought some travel board games or similar. The rest of the evening is spent huddled around the wood burning stove (which at this height is actually burning yak dung given the lack of trees in the area), keeping ourselves warm and reading by head torch.
Day 8: Dingboche
The next morning I wake feeling pretty awful as a stomach bug has settled in during the night. The acclimatisation walk is therefore a tortuous affair for me and I begin to feel utterly exhausted only a few hundred metres up the steep trail. The altitude only compounds the problem and soon Lalit takes the decision to stop me and escort me back down to the lodge. This is a low point. Not only do I feel terrible but I start to worry that, unless I recover before tomorrow's departure up to Labouche, it could be the end of my trip.
I sleep for most of the day whilst the others complete their walk and relax. However as the afternoon progresses a few others start to feel unwell. It's fortunate at least that we sicken on a rest day where we will have the chance to recover before the day's walking tomorrow. We hope so anyway.
Day 9: Dingboche to Labouche
The next morning most of us are feeling better. Only one member of the team, Matt, is still feeling poorly but he grits his teeth and heads out with the rest of us. We trek up and then along a spectacular valley where I grab some long range shots of the group as they trek along in single file with guides at the front and rear. We zig-zag up the valley floor crossing back and forth over streams and ice encrusted rapids. The view back down to Perriche is breath taking and its hard to keep pace sometimes such is the desire to continually stop and take in the vistas.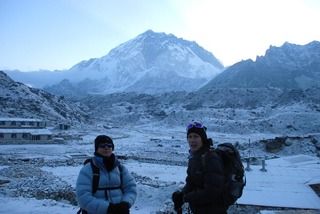 After lunch we climb sharply up to a site of memorials for fallen climbers and sherpas. Amongst them I linger at the memorial to Scott Fisher who perished in the 1996 Everest Disaster, the subject of one of my favourite books 'Into Thin Air' which I have brought with me to read once again on this trip. The barren landscape and blustery grey skies only add to the sense of sadness at this place.
We arrive early at Labouche (4930m) and after lunch we head up a nearby slope to ascend onto the Khumbu Glacier moraine take in stunning views of the glacier and the wider Everest region. The climb is tough and the wind blasts us with snow but we're not disappointed by the panorama at the top.
The snow has left a white carpet over the whole area and the night is bitterly cold. This, added to excitement of the next day's trek to EBC, results in a virtually sleepless night.
Its at this point we lose our first team members as Matt decides to descend in order to fight his stomach bug at a less extreme altitude and Kathy's headaches and nausea cause her to decide enough is enough. It's hard not to feel a sense of togetherness on this trip and we're all gutted for them both.
Day 10: Labouche to Gorak Shep & Everst Base Camp
A 6.30am start is necessary to be sure of getting to EBC and back to Gorak Shep in one day. The walk is now through snow and ice, the landscape dominated by the Khumbu Glacier which appears as a motionless river of ice and rocks (although it is, in actual fact, slowly making its way down the valley). We undulate up and down through the rocks besides the glacier and it's hard to keep a footing. At one point, a Tibetan Snow Cock perches just a few feet above us and serenades our passing with its distinctive call.
We trek into Gorak Shep (5160m) having made a good pace (Lalit hails it as 'Nepali Pace') but I feel I'm now suffering for it. We grab some soup and pasta for what, in my confused state, I think is lunch but as its only 9.30am it's actually breakfast. As we head out towards EBC my head starts to pound and I try to get as much water on board as possible. The walking continues along the glacier with short sharp climbs and descents as we weave in and out of the rocky moraine.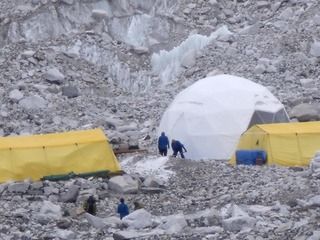 Finally Base Camp (5346m) comes into view and it's not long before we're crossing the glacier itself to reach a vantage point looking down over the tents pitched by the first of the season's expeditions and toward the notorious Khumbu Icefall. It's truly a wondrous sight and the fact that there is no actual view of Everest from here seems of no consequence.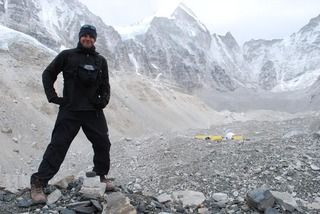 This is the culmination of seven days of extremely challenging trekking and a lifetime ambition achieved. Together the group and guides join in celebration and pose for pictures and we try to let the event sink in. After what seems like five minutes but is actually half an hour we depart back towards Gorak Shep, however I feel exhausted and every step is an effort requiring concentration and deep breathing to get oxygen on board in sufficient quantities. At this height the air contains only 50% of the oxygen found at sea level and the walk back to the lodge, some 2 hours or so, will undoubtedly remain the most physically demanding thing I ever do. By the time we get to the lodge I am utterly exhausted.
Day 11: Kala Patar
The optional hike up this 5500m peak is now only open to 6 of us as two more have decided to descend. And to my eternal regret my sleepless night and pounding headache, not to mention the exertion of the day before, cause me to remain in my sleeping bag as the others head out at 5.30am. I do head up at 7.30am and reach about halfway before meeting some of the group on the way down and descending with them having run out of time to go up any further. I have at least managed to take a few pictures which will become my favourite of the entire trip as they almost do justice to the amazing scenery encountered at that height.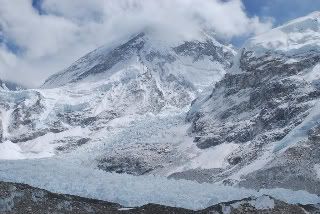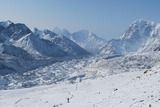 Back at breakfast the four who made it to the top describe an effort even more challenging than the day before but equally as rewarding given the views of sunrise over Everest and its surrounding peaks.
After breakfast we begin the descent back down to Orsa which, after a few technical sections back to Labouche, becomes a virtual stroll compared to the journey up as the terrain smoothes out and the air gets richer.
Days 12-15: Orsa to Lukla (via Namche Bazaar & Phakding)
The pace now is hell for leather as, reunited as a full team, we march downwards with our lungs full of oxygen rich air and the sun on our backs. Its quite amazing how places such as Namche feel so comfortable now compared to when ascending when we endured headaches and breathlessness. We meet other groups coming up and worry for those already struggling but say nothing. There really is a lot to be said for the old expression 'positive mental attitude' and that's the only advice I provide. The rewards are worth the effort…and then some.
Walking back into Lukla in the first rain of the trip I experience a mix of feelings. Its good to be down at a relatively low altitude and to get a warm shower and a proper bed but Lukla also signifies the end of the trek and I feel sad that it's all over.
Nevertheless, with alcohol now back firmly on the agenda after our week long high altitude abstinence its party time in our Lukla lodge and we celebrate our successful trek with a dinner for all the guides and porters followed by a disco where everyone really lets their hair down. It's a great night and cements what has been a truly fantastic trip to EBC.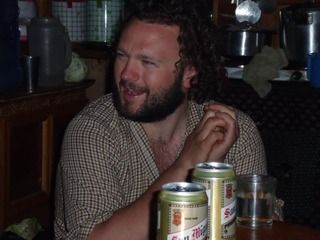 We say emotional goodbyes to all our porters and assistant guides as only Lalit will accompany us back to Kathmandu.
Day 16: Lukla to Kathmandu
After another hair-raising flight back to Kathmandu we disembark into the searing heat and smog which I had long since forgotten about whilst up in the mountains. The chaos of the city at first seems too much to bear but soon all seems normal again.
I spend a few hours shopping in Thamel which offers a vast array of souvenir shops and stalls selling everything from Ghurkha knives to pirate DVDs. I can only fit so much into my luggage so I have to show some restraint and resist the continuous attempts by shop owners to lure me into their premises with 'cheapest North Face' and 'real Goretex'.
The rest of the afternoon is spent relaxing at the Hotel Tibet although most of it sheltering from torrential rain and lightning storms.
In the evening Lalit takes us to the famous 'Rum Doodle' restaurant in Thamel where masses of cardboard yeti feet signed by hundreds of previous trekkers and mountaineers adorn the walls. If you summit Everest you get free food for life here but I'm happy to pay as the food and drink is fantastic. We all sign our 'foot' and add a few of the common phrases from our trip such as "Everyone ready for outside!" and "Jam Jam!". Our foot takes pride of place above the serving hatch from the kitchen so look out for it if you ever stop by.
Day 17: Kathmandu
A lazy day is spent wondering round Durbar Square and its array of temples and holy shrines. We also head to Freak Street, centre of the 1960's and 70's hippy community but now nothing more than a modern commercial area now full of backpacker accommodation and cafes.
The evening is again spent enjoying the Thamel nightlife and culminates in rickshaw race as six of us hire three bicycle rickshaws and willing drivers to race back to the hotel. It's hard to shout encouragement to your driver when you're laughing so hard but we do our best and they laugh as much as we do as the three dilapidated machines jostle for first place. All goes well until Matt and Iain decide to jump out of their rickshaw and run along side to speed up their effort only for Iain to fall under the wheels as he tries to get back in. A few cuts and bruises are par for the course we assure him once we have careered to a halt outside the hotel and our drivers are still laughing at him and the rest of us as they cycle off back to Thamel.
Day 18: Departing Kathmandu
It's the end of the road. It's a sad day to be leaving Nepal and it's sad to be saying good bye to the rest of the group. As we depart the hotel is filling up with expeditions going for the summit and after experiencing the trek to Base Camp where these groups will only be starting their challenge I marvel at what it must take to get to the summit of Everest, the 8848m roof of the world…"
Are you interested in completing Everest Base Camp? The Adventure Company offer a range of treks to suit all visitors and fitness levels. Find out more on our website or visit our Nepal page for full itineraries and information.
Thanks for reading,
The Adventure Company