This month our blog comes from Kirsty Allen who enjoyed writing her previous blog so much, she's decided to write another! Kirsty and her boyfriend went on The Adventure Company's Serengeti Explorer tour. She shares the diary she kept whilst in the wild and lets us know how they got on...
"
Friday 22nd September
Going on Safari – can't believe it! Its something we've always wanted to do, and really hope to see the big five! Elephant, Lion, Leopard, Rhino and Buffalo. We've decided to go with the Adventure Company and go camping – hope everything goes to plan! Catch our train to Euston from Crewe at 2.35pm, and arrive in London at 4.45pm. Catch a train to terminal 3 (Heathrow); check in our bags and away we go! Everywhere we walk we keep spotting 'The Adventure Company' Labels on peoples rucksacks! Definitely a good sign! The plane leaves London at 10.30pm, heading for Addis Ababa.
Saturday 23rd September
Land in Addis Ababa at 8.00am. Ethiopia has a nice airport, with loads of different shops and unusual things for sale. Go to gate 5A, to catch our flight to Tanzania. The plane was parked on the runway, so we had to catch a bus over to the plane. On the plane I am sitting next to a guy also on holiday with the 'Adventure Company' he is going to climb Mt Kilimanjaro! Aarghh! The plane leaves Addis Ababa at 10.30am; next stop Kilimanjaro Airport, Tanzania. I can see the vast open spaces from the plane window, and can't wait to get off the plane, and go outside. After we land we collect our bags and head for the exit. Go out to arrivals and we can see an 'Adventure Company' sign, our Driver is there waiting for us, his name is John. He is such a lovely guy so laid back and seems pretty excited that we are here! Meet 3 other people on our trip, a couple and a lady travelling alone. We all seem similar ages and start chatting straight away. John drove us for about an hour to 'Tropical Trails' office, a company the 'Adventure Company' are using for the trip.
The journey was amazing, everywhere is open land, and people are bustling everywhere, all the towns are really small, and most of the buildings are really run down, but everyone is buzzing! We see some lovely ladies carrying huge baskets on their heads. At 'Tropical Trails' we have a lovely cool drink in there, and a brief about the trip. We also paid our local payment. Once leaving there, John drove us the 5minute drive to the Karama Lodge in Arusha. This place is awesome! We are greeted with watermelon drinks and shown to the bar area – the view over to Kilimanjaro is amazing!
The bar is massive, and the lodge is full of wooden huts all staggered up the hillside, everything looks right in its place and we love it here. The views all over are amazing.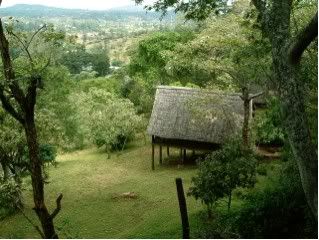 Two young girls carried our bags to our hut, whilst we looked around. John arranged to meet us the following morning. We have arranged to meet with the 3 others tonight at 7.30pm in the bar, where we are also supposed to meet 5 others who are also on this trip. Have a gorgeous shower in the room, it is a stone shower, the room feels like its outside – hope we don't get any uninvited guests! We have a balcony where we can sit outside and relax.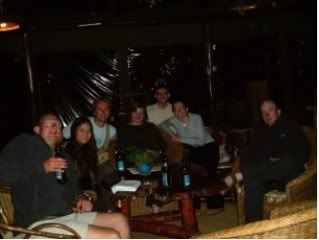 Go down to the bar and meet 2 other guys on our trip, they have just climbed Kilimanjaro and are now on the Safari with us. We all sat and had a drink together, then went down to the restaurant for some food. The food was really nice. Meet up with the final people on our trip, a mother and son, and another guy who is travelling alone, they have also just climbed Kilimanjaro – we feel really lazy now!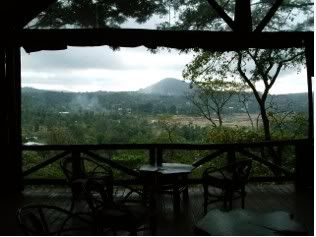 Have a good laugh with everyone; they seem a really good group. Allen then suggests another drink in the bar, so that went down well. Request a wake up call for 6.30am, go to bed at 10.30pm. I am so excited about tomorrow, I am not going to sleep a wink!
Sunday 24th September
Wake up at 6.30am – we did have a visitor in the night, a really long lizard – he was weaving himself through the rushes in the roof – I tucked the mosquito net all around my bed just to make sure he didn't come in for a sleep over! Go down for a lovely breakfast and meet up with everyone. John arrive at 8.00am, we leave at 8.30 in the jeep and go into Arusha.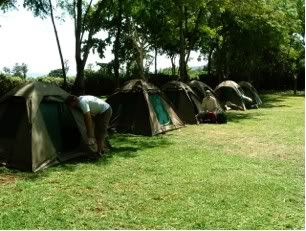 The group has been split between two jeeps. Firstly we went back to 'Tropical Trails' to pick up our Cook, his name was Innocent. Once in Arusha, John took us to change some of our money into shillings, and we then stopped to pick up some water (and beer!). We then travelled for 80Km to pick up some charcoal for Innocent to cook. At this stop, we jumped out to stretch our legs; there was a small café and a few shops swarming with men, women and children all trying to sell us things. I bought two necklaces. Next stop was Twiga Camp site.
We all had to set up our dome tents, very funny! This site had a lovely bar, and kitchen area for Innocent to cook (Inno as he wanted to be called). We sat and had a cool drink, whilst Inno cooked a Spaghetti Bolognaise, with watermelon for after. The food was lovely, and the watermelon was like nothing I had tasted before –it was so juicy! We all sat round a long camp table – everyone is in high spirits! The other driver/guide is called Marrovet. John and Marrovet are always laughing, it's infectious! Leave the campsite at 2.30pm and go to Lake Manyara visitor centre, and then into the National Park.
It is scorching! We have the roof down on the jeep, and we can all stand up! Feel like real explorers! The open spaces inside the park are absolutely amazing. The amount of animals we saw already was amazing too!
Monkeys, elephants, giraffes, zebra, pelican, storks, impala, and dik diks! It is fantastic! John's knowledge on these animals is incredible, and he has the eyes of a hawk!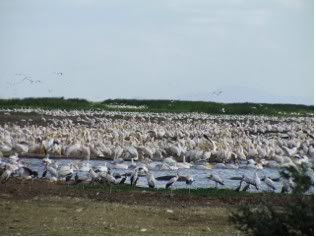 We left the park at 6.30pm and went back to camp. I grab the chance for a shower (cold!), as there will be no chance once we enter the Serengeti. Inno has made us another lovely meal, pumpkin soup, followed by fish, potatoes and vegetables; so far the cook is really very good! Sit and chat around another cool drink, and look at all our photos, a praying mantis comes to join us, he is huge! Go to bed at 11.30pm. Serengeti tomorrow!!!
Monday 25th September
Wake up at 6.00am, it feels hot already. Go for breakfast, sausage, egg and toast, yum – also try some Mango. Get ready to pack up camp, when the elastic snapped on the trailer and hit Inno in the eye! It swelled up really quickly! We are all really worried – my first aid kit comes out to the rescue.
On our way out, John drove Inno and us to the doctors, luckily he will be ok, but has a patch on his eye – bless him. He is still adamant he is coming with us! We then followed the road to meet Marrovet and the others in the next village. We stop to take some photos of Lake Manyara National park from above. By now its about 10am, and really starting to warm up.
Next we drove to the Nnorongogo Crater Conservation Area, it was an amazing site, 16x18Km, created by the collapse of a huge volcano. There is an Alkaline Lake at the bottom which looks like it is steaming, but it is just dust! It is a fantastic sight! Marrovet and John took some group photos of us here!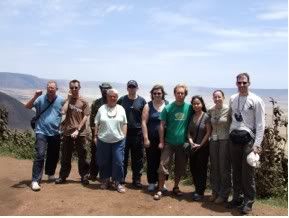 We then drove to the Oldupai Gorge for lunch at about 1.30pm. This is a vast canyon created by volcanic eruptions and the movement of plates over millions of years. The build up of ash has created many levels of preservation of fossils and animals! Remains have been found dating back almost 2 million years. The most interesting are the remains of a 1.75million year old skeleton, nicknamed the Nutcracker man because of his huge skull and jaws – a set of footprints have also been rescued - is this the missing link?!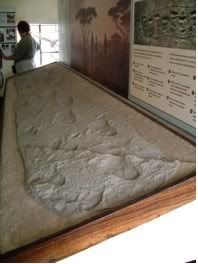 Walk around the very interesting museum and eat our lunch lovely; bread and chicken, an apple, little cakes, biscuits and crisps. We left here about 3.00pm; we are finally on our way to the Serengeti. The roads now are really bad and very dusty, and we can see nothing for miles. Just before we enter the Serengeti we stopped just at the entrance and walked a small nature trail up to a viewpoint where we could take photos of the Serengeti National Park. The view was phenomenal.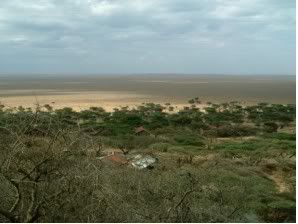 On entering the park a huge Ostrich in the distance comes out of nowhere and looks like it is running along side us! Then suddenly John stopped the jeep and points out a Cheetah! I can't believe it, I have goose bumps, and I have no idea how John spotted it! We are really in the wild now, it is absolutely spine tingling.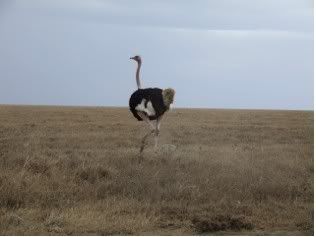 On our way to camp we saw some hippos, they were huge and a purply colour in the sun, I love them, we also saw some Buffalo, they have a huge presence about them and were incredible to see.
We arrived at Tumbili camp at 6.00pm, its in the middle of nowhere, and isn't really a proper camp as there are no barriers or fences, between us and the Serengeti – I absolutely love it! The camp is fairly busy so we are not alone, and the small kitchen area is full of cooks – Inno goes quickly to start making our tea.
The Sunset here is the best I have seen, and as it came down to meet the Serengeti plains, I would not of wished to be anywhere else - I can't describe how wonderful it looked, but it was very special. It started to go dark at 7.00pm, so we all sit round our camp table by lamp light, eating popcorn. For tea Inno made leek and potatoe soup, beef stew with rice, followed by pineapple – all of which was gorgeous! He really is a brilliant cook. John and Marrovet give us a safety brief on tonight – if we have to pee we have to open out tents step 2 steps outside and then go there – absolutely no wandering off. Whilst we are eating our tea we can hear hyenas howling – incredible. Me and Al go to bed at 9.30pm and go through all our photos – we have taken loads. The sounds of the bush are constantly buzzing!
Tuesday 26th September
Wake up at 6.45am, have a lovely breakfast of eggs on toast, then leave Tumbili site at 8.20am and go off on a game Safari! See lots of Impalas and Thompson Gazelles, Warthogs and Tope's. The baby warthogs are the cutest you've ever seen, they run round frantically with their tails in the air!
We saw some beautiful Lions and Lionesses, John called them the honeymooners as the Lion was after the Lioness, then they were lying down together side by side – I think the Lion was spooning her! What wonderful animals. Next we saw a group of Lionesses with their cubs, amazing.
We also saw a Lioness hunting some Impala, it was very exciting to watch and the atmosphere actually felt tense! The highlight of the day was seeing 13 elephants crossing the path in front of us, what a wonderful sight, a proper little family.
See lots of baboons, jackals – very ugly creatures, and a waterbuck.
We went back to camp at 1.30pm to have lunch – chicken, vegetables, potatoes and lots of fresh fruit – lovely. Do some more first aid on Inno's eye too. Sit and chat in the shade until 3.30pm, as it is too hot to go out in the jeep. At 3.30pm we drove for an hour further into the Serengeti and went to see a Hippo pool, not before passing lots of elephants, giraffes and even another cheetah on the way! At the Hippo pool there were tens of Hippo's! They are all amazing.
You have to hold your nose whilst you are there – I'm surprised the whole pool isn't solid the amount of poo they are all doing! It was absolutely brilliant to see so many in one spot. They kept standing up and then sinking back down, and if you were lucky you could see one huge hippo that had a little tiny hippo sitting on her back, and every time she stood up, he was standing there covered in mud! The Hippos shared their home with a couple of huge crocs – amazing.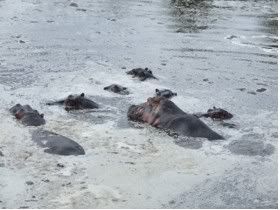 Head back to camp at 6.00pm, see some hyenas and zebra on the way back, and also another gorgeous sunset.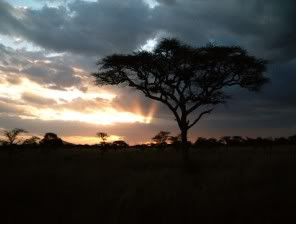 The scenery and landscape here is second to none, and no picture will ever live up to it.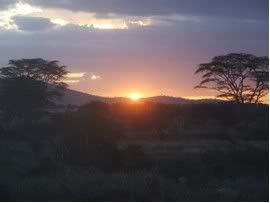 Get back at 7.00pm, it is pitch black! Inno has made cucumber soup, vegetable stew and spaghetti for tea, with lots of pineapple for afters – lovely. How Inno does it in the dark with one eye, I don't know! Sit and chat by torchlights to the others in the group, discussing all our future holiday plans – what a brilliant day!
Wednesday 27th September
Wake up at 6.00am, really hot and suffering from sunburn. Have a drink and a biscuit then leave camp at 7.15am to go on an early game drive. It is very quiet at this time, and everyone is out searching for a Leopard.
After lots of driving, John spots one! We see it! He is lovely; he is asleep at the top of a huge tree, (with his mornings Kill) – what a fantastic thing to see!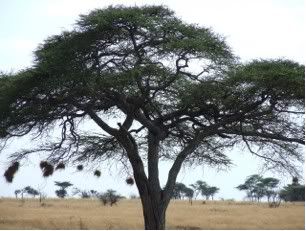 qGo back to camp at 11.00 for brunch. Inno has made sausages, hash browns, pancakes and beans, and lots of watermelon for afters. We then have to pack up our tents after 2 nights here and leave at 1.00pm. On the way back we went to the Serengeti visitor centre for a look round and an ice cream, we are now back in the Nnorongoro Conservation Area.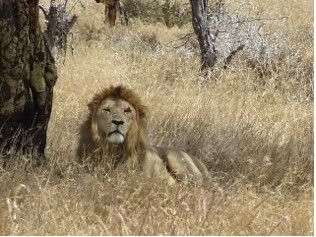 We then went to visit a Massai Village – it was fab! An amazing experience and lots of fun. The Massai men and women sing to us to welcome us to their village, we join in on a dance with them – great fun!
One of Massai men gave us a tour and took us into one of their houses; he said he had killed 2 Lions! Wander round the village and visit the kindergarten class – all the kids are very cute, and an older child was leading the class.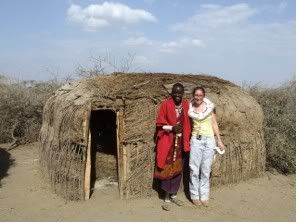 Buy a bracelet and a warrior's ceremonial dance pole, and take lot of photos. Leave the village at 4.00pm and travel to our next campsite – on the way we get a puncture! Arrive at Simba campsite, right on the edge of the Nnorongoro Crater! Wow!
Set up all our tents, and then go for a very cold shower. Sit down for tea in an undercover hut – it is very cold here, actually need to put on our fleeces! Inno made vegetable soup, pasta and meat stew – lovely. Half the group went to bed, and the rest of us stayed up to talk to John about the trip so far. Go to bed at 10.00pm – absolutely freezing!
Thursday 28th September
Wake up at 6.00am, it is very cold! Breakfast is at 6.30am; we have eggs and toast, and lots of cups of tea! Head to Nnorongoro Crater – what a view, its fabulous! John and Marrovet are always telling us things about the animals and landscape – they know everything! John knows lots of facts about the Crater and said he is going to test us today! Eek!
Travelling down into the Crater, you feel like you're in another world hidden down below, home to all these amazing animals, and see their way of life – herds of Zebra and Wildebeest are moving across the crater, it was fabulous to see, and 4 huge lions were hunting the Zebras and the Wildebeest!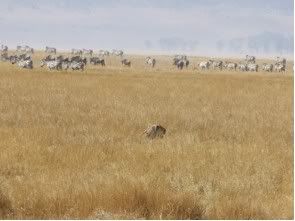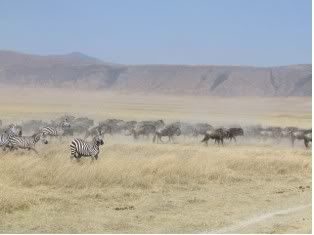 We then went to see a Hippo pool, it was in a gorgeous setting, and they were all lazing around in the sun, including a lovely lion! He was stretched out rolling on his back!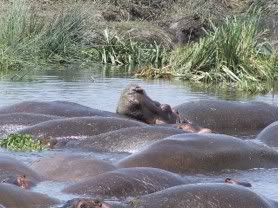 The Crater was full of animals, all going about their daily business, it was beautiful to see. We saw some Hyenas, Ostriches, Warthogs, and elephants, and a pride of Lions. In the distance we even saw 2 Black Rhinos – we felt very privileged to catch a glimpse of them. A Lion came and sat right next to our jeep so we couldn't drive off – absolutely amazing!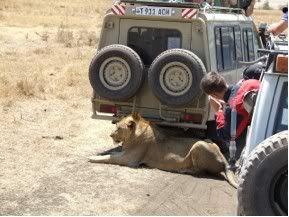 The Crater is a real gem, the rolling green and yellow landscape is spectacular – you could stay here forever. There was a lovely alkaline lake in the centre of the crater, where there were flocks of pink Flamingos – brilliant!
Eventually we have to say goodbye and go back to camp. At 2.00pm we had some lunch – rice and chicken, and then we packed up our tents ready to leave. Drive for about an hour to Karatu campsite, arrive at about 4.00pm. It's a great campsite, where we had our tents put up for us, whilst we sat and had a drink – it was marvellous. There was a lovely little bar – and they were playing music!
A few of us went for a lovely shower, and chilled out on the grass. A graduation ceremony is happening and there are loads of young peoples singing and dancing. At 8.00pm Inno called us for tea, he had made mashed potatoes and a stew – lovely! We all stayed up until 1.00pm laughing and talking, even Inno came to join us.
Friday 29th September
Wake up at 6.45am, and go for breakfast at 7.30am. Inno has made pancakes! Pack up our tents ready to move on – it has started to rain. Leave Karatu and head for Tarangire. Stop at a market on the way so that Inno can pick up some more food for us.
We stopped at another market that was selling African gifts. We bought a lovely carved wooden fruit bowl, and a wooden chess set – all the pieces carved out perfectly. We also bought a tinga tanga painting for home! Arrive at Tarangire at 12.00 - it's sweltering! Set up our tents, whilst Inno prepares lunch – tuna salad, vegetable stew and spaghetti – followed by bananas!
Go out on a game drive at 2.30pm – it rain on and off all afternoon, but we still had a great time. The landscape here is a lot greener and absolutely beautiful, I love elephants, and John said this is the place to see them. He was right – I have never seen so many in one place, and they are huge!
I am amazed at the amount of baby elephants as well – especially when they start to run to keep up with the rest of the group – their little ears flapping around and their tiny tooty trunks – adorable! We see so many animals here – Giraffes, Zebra, Wildebeest, Mongoose, and storks, Waterbucks, Eagles, Vultures, Warthogs and Buffalo – it was great!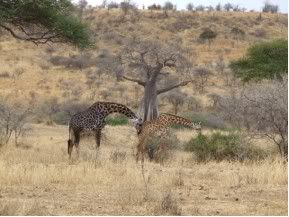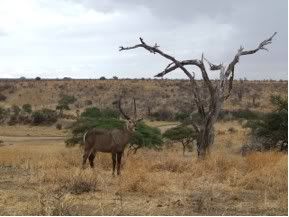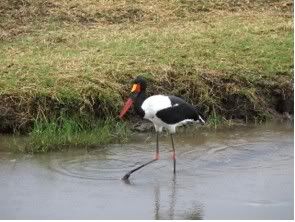 Go back to camp at 6.00pm – it is still raining. Inno has tea all ready for us when we get back – he has made some traditional African dishes for us to try! Marrovet went to get beer for everyone and some Fanta for the girls – bless him.
It was pitch black by 7.00pm, so after tea, Inno built a campfire for us to sit around! A proper campfire in the middle of nowhere, it is so exciting! All 12 of us sat around laughing g and joking, it is the best night! John and Marrovet are lovely and say that they hope we have really enjoyed the trip as much as they have. Go to bed at 10.30pm, I am so sad its our last night! I can hear Hyenas howling in the distance!
Saturday 30th September
Wake up at 6.00am – have our last breakfast together – it's a shame we were swarmed by wasps! It rained loads in the night, so everyone is a bit damp, and the tents are soaked.
Before we set off this morning we all got together to say a big thank you to John, Marrovet and Inno, and to give them a tip from all of us, it was lovely. Pack up and leave Tarangire at about 8.30am – it is so sad.
On the way back to Arusha, John stopped at a shop on the roadside in Arusha, where they sell Tanzanite – it is beautiful! We haven't bought any credit cards with us – probably for the best though! Leave there about 10.30pm and head to a small airport in Arusha. Drop off one of the ladies at the airport, as she is going on the Zanzibar extension. We all hug each other; it is so sad, feel like we are losing good friends, as we all got on so brilliantly. John then took us back to 'Tropical Trails', where we had a drink, and a chat, then onward to the Karama Lodge. Give John a huge hug – he has made this trip so brilliant, and is one of the nicest guys I have ever met.
We all sat in the lounge and ordered some sandwiches, soaking up the last of the atmosphere before we leave. A bus came to pick us up at 3.00pm to take us back to Kilimanjaro airport. Our flight back to Addis Ababa is at 6.30pm, sleep for most of it, as we are so shattered! Arrive there at 9.15pm, have a wander round and try to eat some food with the meal vouchers they gave us – not as lovely as Innocents cooking!
Our flight back to London leaves at 2.00am. On the plane we all sleep on and off till we land at 9.40am. Say our goodbyes and head off home. We have swapped email addresses with everyone so we can swap photos and stay in touch. This holiday has been a really gem, and I have really enjoyed myself."
Kirsty and Alan went on The Adventure Company's Serengeti Explorer trip.

For more information about our Serengeti Explorer tour or to find out about the other tours The Adventure Company have departing for Tanzania, please do visit our website.

Have you been on an Adventure Company trip? Or maybe you are waiting to leave, thinking of booking, or simply want to meet other travellers? Why not sign up for our new community area, where you can share tips, upload photos, write blogs and meet other travellers who could be on your trip!Thanks for reading,
The Adventure Company
"Adventure is our middle name"