This weeks blog comes from Dawn Higgins, a mum who took her two daughters Amy and Lauren on our Active Croatia Family Holiday trip.




She gives us an insight into how easy it is to have a great adventure when you are a single parent, and kindly tells us about the fun the trio encountered!
"
Saturday
It was here at last. It had seemed such a long way off when I booked it the previous November. It was our first holiday just the 3 of us, I was both nervous and excited.
My 2 girls aged then 8 and 9 couldn't wait to set off.
We left home mid morning for the 2 ½ hour drive down to Heathrow Airport. We finally arrived at the off site car park after driving past it several times much to the girls amusement. Car checked in, we were on the minibus on the way to the airport. Too early to check in we went to have lunch, then headed back to check in where we met another mum and her daughter, followed by a dad and his son. We all hit it off straight away. Unfortunately the flight was delayed a couple of hours, but we didn't mind too much, gave us a chance to get to know each other.
Eventually we boarded the plane which touched down en route in Split, here we met most of the remaining group. Not many of us were left on board the plane now, another 30 minutes or so and we arrived at Zagreb. Two guides met us at the airport and we boarded 2 minibuses and headed off to Korana Village, complete with pack up. We arrived there about 2am, both excited and tired.
We were shown to our accommodation, which comprised of traditional Croatian houses. We occupied 3 of the houses in total, 3 families were in ours. They were basic, but comfortable with a double and single bed. I drew the short straw and had to share with my eldest daughter Amy!! She doesn't know how to lie still.
Sunday
The next morning we had an early start, breakfast at 9am, where we met our guides for the week - Stefan and Martel. We also met up with the last remaining family, who had travelled from America. Our group comprised of 3 dads, 4 mums, 4 girls and 5 boys aged between 8 and 16.
Straight after breakfast, it was time to get ready for our cycle ride. First of all we were kitted out with appropriate size bike and helmets, all of which the guides saw to. The parents plus Stefan, proceeded to climb up the steep hill out of Korana village, whilst the children with Martel headed off in the minibus to meet us further along the way where it was flat and we could all cycle together.
It was a lovely day, not too hot, cycling along the lanes and through the beautiful peaceful countryside. Everyone was left to cycle at their own pace and no pressure was put on anyone to keep up. The minibus was always there just in case enough was enough.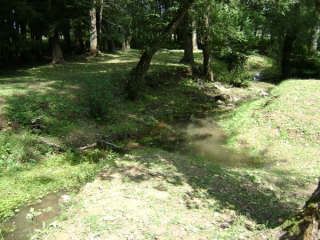 We cycled for quite a while and eventually arrived at a beautiful little spot beside a shallow river, where we stopped to have lunch which had been supplied for us. Lunch eaten, it was time to go off and explore the caves.
We were all given helmets with lamps and it was good fun clambering through the caves into all the nooks and crannies, then the lights were turned off, pitch black! It was very cold in the caves. (take a sweatshirt if you plan to go!) Once back out into the warm sunshine we had free time to explore, most of us sat by the river whilst the kids played.
Time to head off back to the village, most of the kids had had enough cycling and opted to return to the village by minibus, leaving us adults to cycle back. (Be prepared to get saddle sore if you're not used to cycling). The kids were playing down by the river in big rubber rings by the time we got back, having a great time.
Showered and ready for dinner we sat in the little communal area in front of the houses next to the river, it was so peaceful. We reflected on our first day and got to know each other more over dinner which was cooked by the Croatian family that lived there. Early to bed, ready for tomorrow.
Monday
9am start for breakfast. It was our first day of kayaking. Again we were fully fitted out with life jackets and helmets. Kayaks on the trailer and we were off for our river adventure.
Today we had to provide our own lunch (as we did on four of the days). We stopped en route at a local shop and stocked up with goodies to keep us going for the day. We arrived at our start point about 2 hours later. We had some free time whilst 1 of the minibuses was took to the final destination. It was once again a lovely spot and most of us jumped in and out of the river, swam across it, went to the island in the middle, more jumping in. It was so good to relax and do the things you never have time for at home.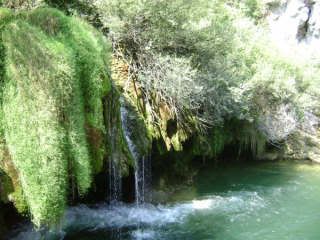 It was time to board the kayaks, we paired up. I was with my youngest daughter, Lauren. Amy teamed up with a girl a few years older than herself. Once taught the basics we were on our way. It took a lot of getting used to, especially when you are sharing a kayak with someone. We hit the banks and several trees numerous times, but it was all part of the fun. We weren't the only ones, think we were probably the worse to start with though!! Amy and her friend did struggle a little bit, with not being that strong in their own kayak and were towed a few times to keep up with the rest of the group. Again, there was no pressure to keep up at a certain pace. There was always 1 guide at the front whilst the other 1 was at the back.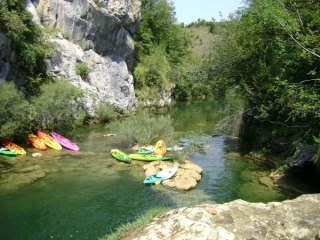 Heading downstream we went over numerous waterfalls, it was great fun. The guides guiding us down them, arms up and paddles in the air as we went down. Some of the group capsized, but luckily we got away with not doing so.
What a brilliant day it was, great surroundings, great people and lots of splashing about. (You don't have to be shy about the lack of toilet facilities, going behind the bushes was all part of the experience!!) Back on dry land, we headed back to the village. Quick shower, dinner and it was time to go to bed.
Tuesday
Another early start 8am (we were used to them by now, it made you make the most of every day). Today we were off walking in Plitvice National Park.
The scenery was fantastic, blue lakes, waterfalls, streams, full of fish which the kids loved.
We walked for about 3 miles, interspersed with a trip on a little train and a ride on a ferry across the lake.
Here we stopped for lunch, two places to choose from, most opted for the barbecue chicken, which went down well. It seemed really strange though being with crowds of people after it only being our own little group.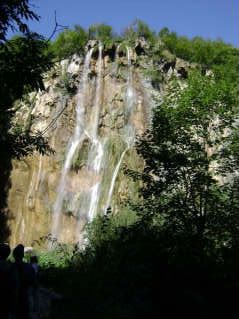 Early afternoon we headed back to the village where we had a few hours to spare. Some of us headed off upstream on the cycles to a lovely little spot with a waterfall, which we proceeded to dive and jump off.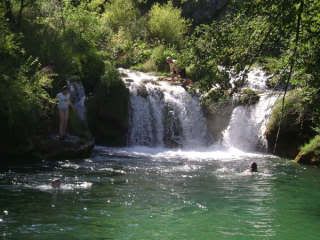 The local Croatians were there swimming and diving in too. Of course you didn't have to do this, you could stay in the village and just relax, soak up the sun if you wanted to. Back to the village, shower, dinner and early to bed.
Wednesday
Another 8am start and another day of kayaking. Everything loaded up and we were off, we were going to be heading upstream today. The only drawback here, was that you had to drag the kayaks up and over the waterfalls. The guides were brilliant at this.
Today I was with my eldest Amy, and Lauren fell lucky and shared a kayak with Martel, 1 of the guides. We had to wade through some quite deep water at times, and Lauren enjoyed the fact that she was carried by Martel, talk about being pampered, she loved it!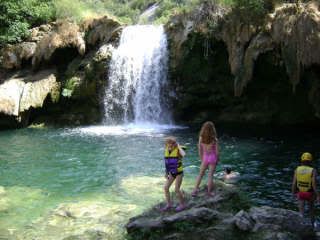 We stopped en route and climbed to the top of the 7 metre cliff, which everyone had been talking about jumping off. It had seemed like a good idea at home, but not in reality. However, there was a 4 metre cliff too, which Lauren and I and most of the others jumped off.
It seemed such a long way down as you plunged into the water, we were probably only under for a couple of seconds, if that. It was a big achievement for myself, as I had been scared of heights for years. It was no problem for the kids though, they have no fear and in just jumped in A couple of the group did jump off the 7 metre cliff, but my fear hadn't completely gone for that.
Back in the kayaks we headed off downstream, down all the waterfalls we had previously dragged the kayaks up. At the end of the kayaking trip, Lauren had great pleasure in telling me how they hadn't crashed the kayak once! We got the hang of it eventually. Back on dry land at our start point we headed back to the village.
Quick shower and change, we were off to a local restaurant tonight to have trout. It was lovely, fresh straight out the pond. The kids were a bit squeamish, and had to have the fish heads cut off before they would eat it. There was also a vegetarian dish available too. After a good meal and couple of drinks, we headed back to our beds for the night.
Thursday
8am start.(If you like your lie ins, then this isn't for you!). Third day of kayaking. Today we were heading off as part of a larger group down a differerent stretch of river. Today I was with one of the girls, whilst my two were both with the guides. It was so much easier to paddle, having someone that little bit older to help to guide the kayak. Lots of splashing about and having fun again, we were starting to get quite good at this.
Stopping en route for lunch, at a lovely spot where you could swim and another cliff to jump off. Not quite so high this time. There was no stopping us today, not saying that the nerves weren't there a little bit! Again everyone helped and encouraged each without any pressure, you didn't feel you had to join in, some of the group sat and soaked up the sun. It was very warm today, probably the hottest day of the holiday. Back in the kayaks to our destination and back for dinner and bed.
Friday
8am start again. Today was a free day to do what we liked. We had the option of going white water rafting, which we all decided we wanted to do, rather than relax! However the kids had to be 16 to do it. We were instead, given the option of the kids rafting on a quieter stretch of the river.
They all said yes and 3 of the adults including myself went with them whilst the rest went white water rafting. We headed over the border into Bosnia for this activity. Another guide from the rafting company joined us, as we headed off into 2 rafts - girls versus boys. We won! We headed off downstream for probably a couple of hours, stopped part way for a paddle or swim. Once at our destination we waited for other part of our group to arrive and had lunch by the river. Time to head back into Croatia for our final evening together.
It was time to start packing, shower and dinner. We had a good time chatting about the weeks events, swapping phone numbers and email addresses.
Saturday
It was a very sad day, up for 5am to get to the airport for our morning flight. Quick breakfast and it was time to go. It was our guides last week with the Adventure Company too, so it was goodbyes all round.
Just like to say a big thank you to the Croatians in Korana village for making us feel so welcome and looking after us along with our two guides Stefan and Martel who were absolutely brilliant.
My kids and I will never forget this trip. It was our first holiday together just the 3 of us. Yes it was daunting at first, wondering who else was going to be on the trip, but we needn't have worried. All the families got on really well. It was absolutely great, the best holiday ever.
So to all you single mums, dads and kids out there, go for it and enjoy!!"
Dawn and her daughters went on our Active Croatia Family Holiday trip.Click on the link to read more about the full itinerary and to find latest pricing and availability. There are four departures during July and August, which fits in perfectly with the school holidays!

Find out more about Croatia Holidays on our website

Find other single mum and dad adventurers on our Facebook page, click on the link on the right hand side of the page!

Thanks for reading,
The Adventure Company